Crestron's For-Real Two-Way IP Control of Apple TV: TSR-310 as Siri Remote
At ISE 2019, Crestron showed first two-way IP control of Apple TV, turning the TSR-310 home-automation controller into a 'native' Siri remote.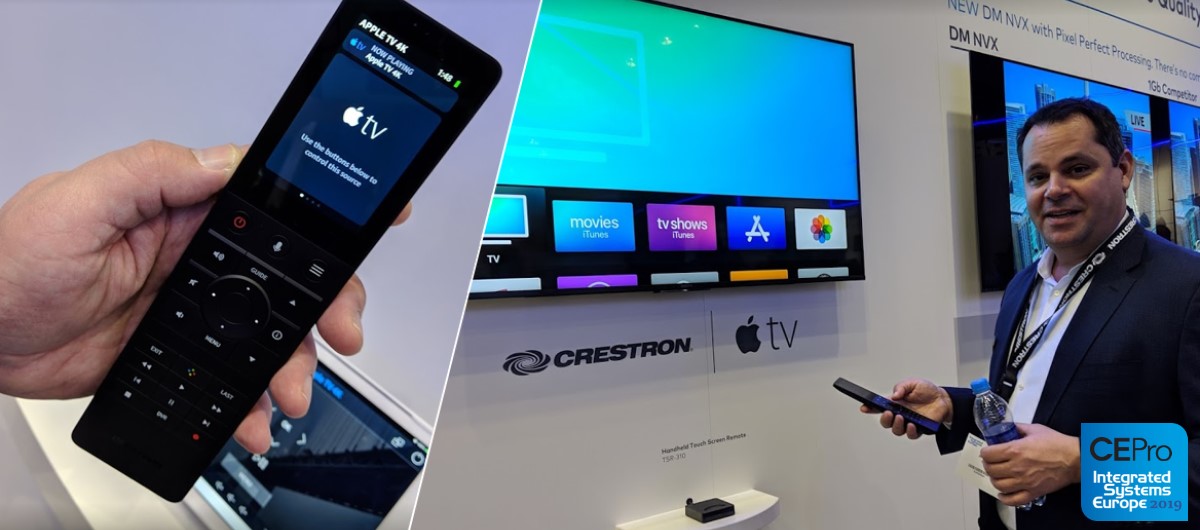 Julie Jacobson
·
February 14, 2019
Crestron could be the first home-automation company to integrate fully with Apple TV, taking advantage of a new API announced by Apple last year.
At ISE 2019, the smart-home leader demonstrated how a Crestron remote could be used to access content and services from Apple TV as if it were a native Apple remote with Siri.
The response is "so fast and so cool," John Clancy, VP Residential, told us in a pre-show interview. "I was blown away at the speed."
So was I.
At ISE, Clancy held a Crestron TSR-310 remote to his mouth, pressed the mic button, and said, "Play YouTube videos of Amsterdam."
In a split second, the videos appeared on the TV, ready to be played.
'Completely Sanctioned'
It might not seem like a huge feat, but home-technologists have been struggling to integrate Apple TV into home-automation systems for years. Apple wanted nothing to do with it. So we survived on IR controls and unsupported IP hacks for users who absolutely, positively needed Apple TV in their A/V ecosystem.
Last year, Apple relented and announced an API for two-way IP control. Control4, Crestron and Savant were to be the first partners.
Yesterday, we posted a piece about Savant's new on-screen display (OSD) available through Apple TV; however, that particular demo was not the one illustrating two-way IP control. Savant has shown that implementation elsewhere.
Crestron did show its implementation at ISE, where the Apple logo appeared on signage and Crestron controllers, and everything was "completely sanctioned and OK'd by Apple."
Recalling his years as a home-technology integrator, Clancy lamented the inability to integrate Apple TV into a smart-home ecosystem.
"When we were installing Apple TVs for customers," he says, "we kind of removed that great feature of voice control. This gives that back to them."
Crestron uses its own voice server for system-wide controls via the remote. Now, when a user selects Apple TV as a source, voice commands are "commandeered" to Siri. Onscreen, an Apple logo appears, rather than a Crestron logo when the voice button is pressed.
---
We're Looking for Your BEST Projects
Don't miss your chance to enter to win a 2019 BEST Projects Award. We'll be announcing winners at a special Gala event at CEDIA EXPO. We can't wait to see what you've been up to this year! Enter your projects now.
---
About the Author
---
Julie Jacobson is founding editor of CE Pro, the leading media brand for the home-technology channel. She has covered the smart-home industry since 1994, long before there was much of an Internet, let alone an Internet of things. Currently she studies, speaks, writes and rabble-rouses in the areas of home automation, security, networked A/V, wellness-related technology, biophilic design, and the business of home technology. Julie majored in Economics at the University of Michigan, spent a year abroad at Cambridge University, and earned an MBA from the University of Texas at Austin. She is a recipient of the annual CTA TechHome Leadership Award, and a CEDIA Fellows honoree. A washed-up Ultimate Frisbee player, Julie currently resides in San Antonio, Texas and sometimes St. Paul, Minn. Follow on Twitter: @juliejacobson Email Julie at julie.jacobson@emeraldexpo.com
Follow Julie on social media:
Twitter · LinkedIn · Google+
Julie also participates in these groups:
LinkedIn · Google+
Control & Automation
Biophilia: Nature Sounds vs. White Noise for Productivity and Wellness
Dish Rolls Out New Direct-to-Consumer Smart Home Service
New GE-Brand Z-Wave Smart Light Switches Available in Five Styles
Interlogix and Inflotrolix Team Up to Offer New Water Leak Detection System
Making Landscape Lighting a Profitable Revenue Source
View more on Control & Automation
Take Our Latest Quiz
How Well Do You Understand Ethernet Cables and Connectors?
Bose