Copper vs. Fiber: Don't be a Scaredy Cat
Fiber optic cabling beats copper (Cat x) when it comes to long distances, high bandwidth, reliability and future-proofing, but smart-home integrators are hung up on fiber myths and high prices.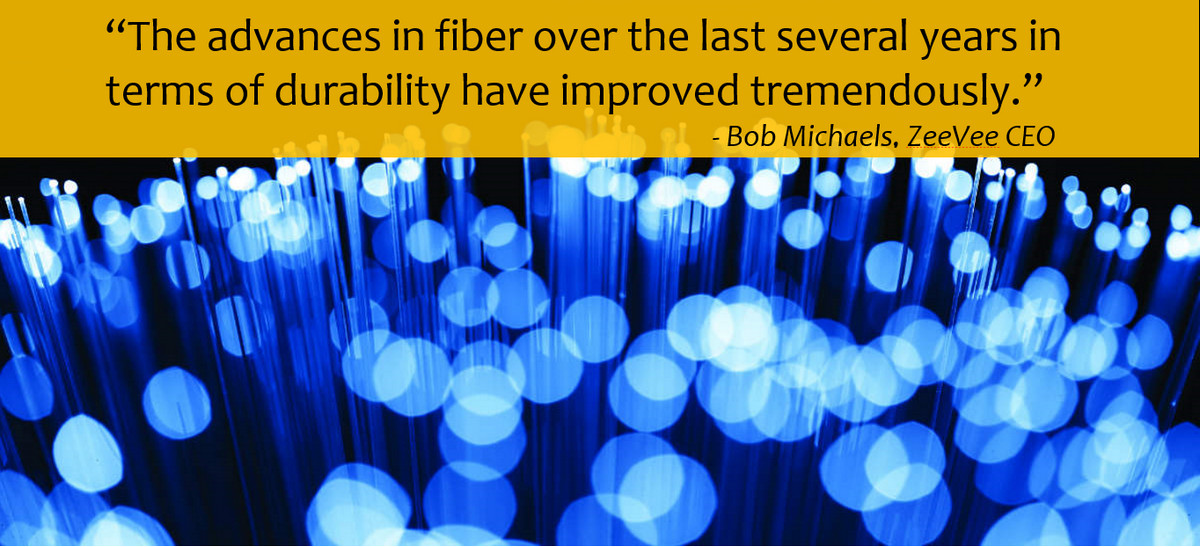 Robert Archer
·
February 23, 2018
When it comes to high bandwidth, signal integrity, long distances and future technologies, fiber-optic cabling easily beats traditional copper (Cat x and otherwise). But old stereotypes and realities still linger, making home-technology pros reluctant to spec the stuff ... if they weren't already repelled by price.
Things have changed, however, since the olden days of fiber just five or 10 years ago. The fragile fibers are more durable, the ends are simpler to terminate, and because of its increasing proliferation in commercial applications, fiber is becoming less expensive in terms of raw cost and installation labor.
"The advances in fiber over the last several years in terms of durability have improved tremendously," says Bob Michaels, CEO of ZeeVee, a video distribution company. "I think anybody considering putting in a network 10Gbps or above — which you should probably be considering anyway — should absolutely be considering fiber."
"When you think about the bandwidth requirements for fiber vs. cabling continuing to increase, you wonder how big that cable is going to get."
— Bob Michaels, ZeeVee CEO
Even today, we have HDMI 2.0, which designed to support up to 18Gbps. New HDMI 2.1 solutions will support 48Gbps of bandwidth.
Through their increased bandwidth support, the formats enable the transmission of uncompressed video ranging from Ultra HD 4K with HDR (high dynamic range) to 8K at 60Hz video, and lossless audio that includes the object-based surround-sound formats Dolby Atmos and DTS:X.
Beyond today, new high-bandwidth applications will further overwhelm the infrastructure -- virtual reality, 8K video, high-resolution audio, videoconferencing, 4K cameras, and more.
"When you think about the bandwidth requirements for fiber vs. cabling continuing to increase, you wonder how big that cable is going to get," says Michaels. "When you put in that fiber infrastructure, it's there and remains constant. So you are kind of future-proofing."
The case for fiber is especially compelling for longer-distance cable runs. Fiber is the best bet for 18Gbps HDMI runs that exceed 98 feet (30 meters).
"Look at video," says Dennis Jaques, owner of systems integration firm Maverick Integration. "How is someone taking a video distribution matrix and going 200 feet and keeping HDR? I don't know how you do it. You can do it at a short distance, maybe 60 feet, but you're already at the limit of the category cable wire. Fiber? No problem."
Understanding Fiber Optics
Fiber-optic cable transfers data using infrared light energy instead of electrical pulses. Signals travel down a small silica core smaller than the size of a human hair.
Fiber is "more durable" than copper, according Robert D'Addario, CEO of Cleerline Technology Group. It's also immune to lightning strikes and EMI/RF interference.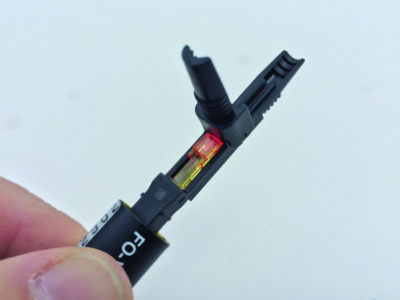 Cleerline SSF says its fiber solution was built from the ground up to be as easy, or easier, than UTP to terminate and install.
Fiber isn't without its challenges, of course. There is signal attenuation (amplitude lost) and modal dispersion to contend with. Then again, copper must tackle impedance, capacitance and shielding, so pick your battles.
Modal dispersion, specifically in multimode fiber, is the phenomenon of multiple signals with differing wavelengths entering the fiber at different angles, thereby traveling at different speeds along the cable and arriving at the termination point at different times. The staggered timing can distort the signal and limit the bandwidth.
"Most of the distance limitations within the A/V community on multimode fiber are due to modal dispersion," D'Addario says. "The [limitations] are easily navigated by understanding the bandwidth ratings for the grade of fiber being used."
The "limitations" aren't all that worrisome right now, especially for residential applications. Current multimode links range from 100Mbps to 100Gbps over two strands of fiber. If there are limitations to multimode networks, "we have not come close to encountering them yet," says D'Addario.
Speeds of 100Gbps, 400Gbps and beyond can be achieved over fiber "due to signal transmission at the speed of light," D'Addario adds.
Copper, on the other hand, will have perpetual challenges due to the "speed limitations inherent to copper transmission," he says.
Metra on Developing Copper vs. Fiber
Pictured: Metra's Velox Active Fiber cables handle long runs at 18Gbps.
Metra's Brett McCall says the company is putting its R&D into fiber these days. The development process is not "just like copper," he says.
With copper, you have to "rebuild a collapsed analog signal," both for high-speed A/V and low-speed EDID data that read as digital. You also have to maintain the correct voltage/current values down the entire path."
"This is considerably more difficult in the development stage than with optical," McCall says. "Optical, in theory, involves simply finding the TX/RX set that will match the needed speed."
Not so fast. It's not as easy as it sounds, he says: "EDID and voltage/current issues have plagued many products."
Even after products are shipping, Metra goes back to revise existing models based on feedback from the field.
Metra has begun work on meeting the 48Gbps specifications for HDMI 2.1.
Fiber in the Field
Historically, fiber has been hard to work with -- hard to terminate and hard to maneuver because of its delicate nature. Today, we have fiber that that is durable, bend-insensitive and simple to terminate.
Maverick's Dennis Jaques likes fiber because it is so simple to work with. It's light and flexible and you can pull long cable runs without using repeaters. And it's also very reliable.
Maverick, which serves both commercial and residential markets, has deployed fiber between network switches for more than five years without issue, "whereas we had tons of problems with the shielded termination from Cat 6."
He adds, "We've had significant issues with termination on products, but never with the LC or SC connectors from fiber."
At the end of the day, it's all about the customer, says Brent McCall, product development and technical support for connectivity solutions provider Metra Home Theater Group.
Cat x cable is still significantly less expensive than fiber (or is it, when you consider repeaters and the physical bulk of copper?).
"When it comes to fiber vs. cabling, what to use should be determined by the customer's desires in performance, their budget, distance and future requirements," says McCall. "Higher budget projects requiring longer distances and high-speed connectivity should consider using fiber, while budget-conscious projects should consider using copper HDMI."
McCall adds that for very short runs, where the client might want to upgrade to higher bandwidth content in the future, high-quality passive copper HDMI cables are recommended.
"We just don't know what is in the future, but it could make electronics in the active cables ineffective," he says "If you terminate your own electronics, it's possible new terminations still may not work past 18Gbps."
Many consumers won't have access to 18Gbps+ content in the near future, McCall adds, "so we recommend discussing passive, active and fiber solutions with your client before making a decision."
---
2019 State of the Industry Special Report - CE Pro Download
The custom electronics industry saw a healthy 8 percent growth rate in 2018, down slightly from the blazing 11 percent growth in 2017 but still admiringly strong. Our 2019 State of the Industry indicates that readers expect to see even more growth in 2019. Get your copy today.
---
About the Author
---
Bob is an audio enthusiast who has written about consumer electronics for various publications within Massachusetts before joining the staff of CE Pro in 2000. Bob is THX Level I certified, and he's also taken classes from the Imaging Science Foundation (ISF) and Home Acoustics Alliance (HAA). Bob also serves as the technology editor for CE Pro's sister publication Commercial Integrator. In addition, he's studied guitar and music theory at Sarrin Music Studios in Wakefield, Mass., and he also studies Kyokushin karate at 5 Dragons in Haverhill, Mass. Have a suggestion or a topic you want to read more about? Email Robert at robert.archer@emeraldexpo.com
Follow Robert on social media:
Twitter
Robert also participates in these groups:
LinkedIn · Google+
Networking & Cables
Product Briefs: HTA Calculator; Onkyo, Pioneer Firmware; KanexPro, DTV GameControl; Luxul Firmware
Power vs. Data Rate: Is There a Compromise?
Interview: Vanco President Discusses A/V-over-IP Adoption, HDMI 2.1, More
$70 EnGenius Smart Mesh Router Provides Budget-Friendly Wi-Fi Reliability
Why 5G Won't Replace Fiber or Cable Broadband
View more on Networking & Cables
Take Our Latest Quiz
How Well Do You Understand Ethernet Cables and Connectors?
Bose