Control4's New $350 Home Automation Hub: Affordable, Powerful IoT, No A/V
At ISE 2018, Control4 introduces most affordable smart-home controller yet: CA-1 with Wi-Fi, ZigBee, optional Z-Wave targets production-home builders.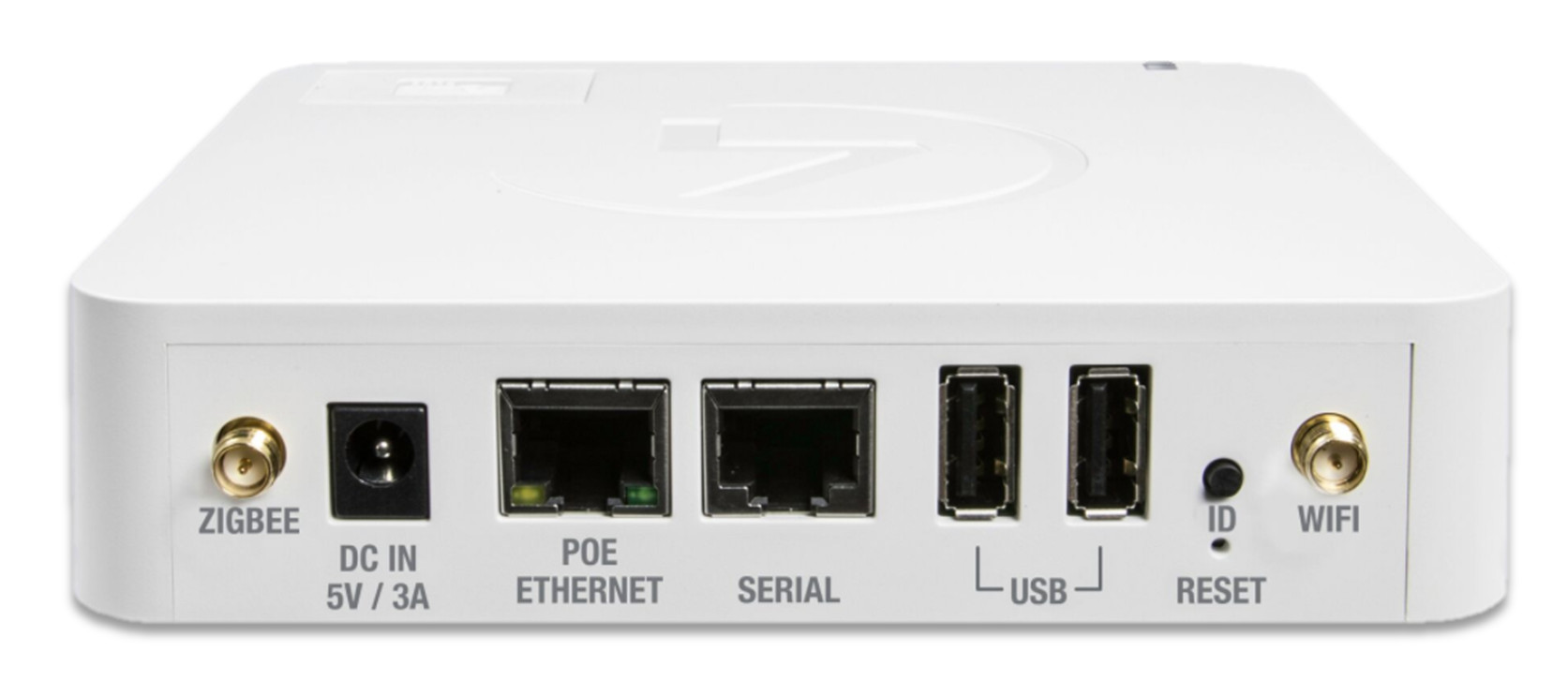 Julie Jacobson
·
February 6, 2018
Among professional home-automation systems, Control4 (NASDAQ: CTRL) is already considered "mainstream," but the new CA-1 controller, introduced this week at ISE 2018, is downright affordable.
It takes the best of Control4's IoT solutions – including integration with lighting, energy management, security, surveillance, Alexa and more – and packs them into a $350 (MSRP) box.
It has the same IP (Ethernet, Wi-Fi), ZigBee and serial control as Control4's flagship EA Series, but it also incorporates Z-Wave more integrally than before – via a slide-in module, rather than an external dongle.
About the only thing it doesn't have is the EA's slightly higher price tag (starts at $600 with a handheld remote) and audio/video capabilities (streaming media and IR control of A/V gear).
"The new price point really is going to resonate with homebuilders and developers, even hotels."
— Kordon Vaughn, Sr. Director product marketing, Control4
The CA-1 was built "specifically as a new entry point for homeowners who want peace of mind, comfort and convenience," says Kordon Vaughn, Control4 senior director of product marketing, in an interview with CE Pro.
Control4 keeps coming down in price, but the production-builder and MDU markets (hotels, condos, hospitality) remain elusive. True, Toll Brothers offers Control4 as an option for all new homes, but the large national builder has yet to develop a community that includes home-automation standard in every unit – the Holy Grail for all control companies, and pretty much every company that sells into new construction.
"Toll Brothers offers Control4 as an upgrade, not a standard," says Brad Hintze, Control4 senior director of product marketing. "Injecting an integrator conversation into the home-buying cycle can be challenging; however if the builder puts this affordable unit into every home, it is much easier for the dealer to come in later and customize the system for the new home owner."
Vaughn adds, "The new price point really is going to resonate with homebuilders and developers, even hotels."
CA-1: Same Control4 Smart-Home Ecosystem, Programming
Some smart-home vendors that go down-market create separate ecosystems and programming environments for their new offerings.
Often, they do this to strip costs or artificially limit the feature set of the lower-priced options.
"Many home-control companies sell their products through multiple channels, like security dealers, electrical contractors and higher-end 'CEDIA' dealers," Vaughn explains. "Often, they want their products to 'look' different for each channel, or program differently to reflect the skills of the installer."
Control4 doesn't take this approach with the CA-1, which integrates with the same thousands of products that EA controllers already support. Users also enjoy the same feature sets, same user interfaces, and same personalization tools such as Control4's new When/Then "DIY" engine.

"We leverage the existing Control4 ecosystem," Vaughn says. "We wanted dealers to immediately succeed. We've learned that when you bifurcate your product line – when you have two different types of systems – you can't get the scale of starting simple and then going big over time."
In the case of the CA-1, Control4 dealers need not learn another programming environment, nor confuse the brand with different UIs and features.
The approach also allows dealers to easily upgrade to an A/V-capable EA-Series controller.
"You could start with a CA-1 and then add A/V," Vaughn says. "It's as simple as adding an EA-5 to the project. All of the programming comes with it."
He adds that typically there will be little reason to "upgrade" to an EA-5 unless A/V is the objective.
The CA-1 can support more than 100 smart devices and systems out of the box – already overkill for the typical entry-level home. For larger homes and projects, the integrator would simply start with an EA-Series controller.

Control4 CA-1 Features & Specs
The Control4 CA-1 Automation Controller is the perfect entry point into Control4 automation built around security, comfort, and convenience solutions. It has built-in control for IP, ZigBee, and serial devices, plus an internal slot for a Z-Wave Plus™ module (sold separately). It is designed for homeowners, builders, MDUs, and hotels that want smart experiences that include smart lighting, thermostats, door locks, cameras, sensors, shades, and more.
The CA-1 is the foundation that makes smart products work together to deliver rich, orchestrated automation —the smart home experience homeowners truly want.
• The simplest way to experience the Control4 Smart Home
• Orchestrated automation for door locks, shades, cameras, sensors, and lighting
• Built on Control4's proven OS and ecosystem
• Built-in connectivity for IP, ZigBee, and serial devices
• Expansion slot for optional Z-Wave module
• Perfect for broad-scale deployments
• Can be powered by PoE—making it an ideal tool to expand ZigBee in larger Control4 installations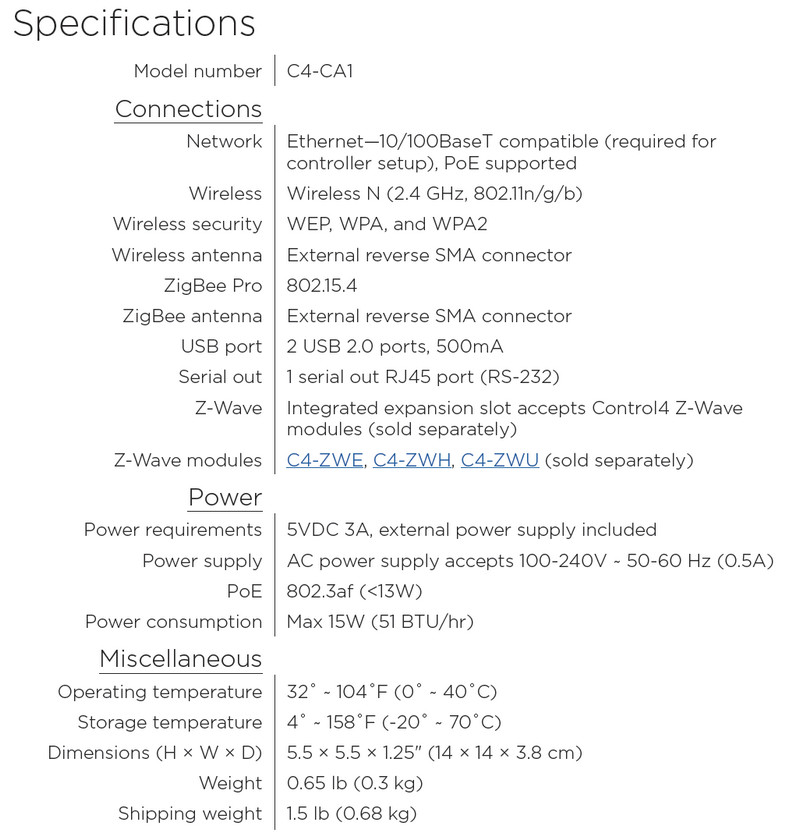 ---
2019 State of the Industry Special Report - CE Pro Download
The custom electronics industry saw a healthy 8 percent growth rate in 2018, down slightly from the blazing 11 percent growth in 2017 but still admiringly strong. Our 2019 State of the Industry indicates that readers expect to see even more growth in 2019. Get your copy today.
---
About the Author
---
Julie Jacobson, recipient of the 2014 CEA TechHome Leadership Award, is co-founder of EH Publishing, producer of CE Pro, Electronic House, Commercial Integrator, Security Sales and other leading technology publications. She currently spends most of her time writing for CE Pro in the areas of home automation, security, networked A/V and the business of home systems integration. Julie majored in Economics at the University of Michigan, spent a year abroad at Cambridge University, earned an MBA from the University of Texas at Austin, and has never taken a journalism class in her life. She's a washed-up Ultimate Frisbee player currently residing in Carlsbad, Calif. Email Julie at jjacobson@ehpub.com
Follow Julie on social media:
Twitter · LinkedIn · Google+
Julie also participates in these groups:
LinkedIn · Google+
Control & Automation
Vivint Adds Connected Cars to Security and Smart-Home Ecosystem
Product Briefs: Fibaro, SmartThingsRutherford Audio, Goldnote; ProSource adds Dish
Analysis: ADT Pulse vs. Command and Control; 3G Sunset Doom as 'Opportunity'
Josh.ai Integrates With LG Displays for Voice-Controlled Entertainment
Bosch, Thermador Open Smart-Appliance APIs for Home Automation Integration
View more on Control & Automation
Take Our Latest Quiz
How Well Do You Understand Ethernet Cables and Connectors?
Bose