ConnectWise and D-Tools Launch Combined Workflow Optimization Platform
The newly launched partnership between ConnectWise and D-Tools allows integrators to seamlessly tie together project proposals and design documents.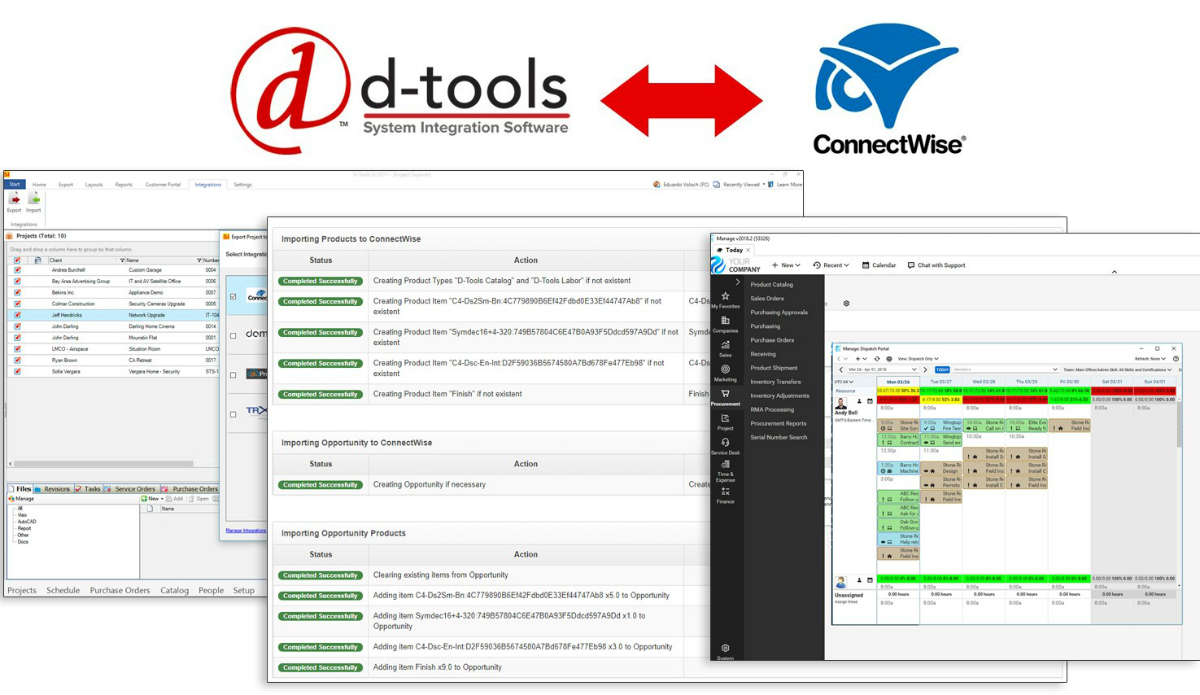 CE Pro Editors ·
May 3, 2018
Recently, D-Tools, Inc., makers of data-driven system integration software, and ConnectWise, a software company that connects technology teams solutions and services to help them succeed, announced the two platforms are now integrated.
This partnership could help A/V integrators face the multitude of challenges associated with accurate budgeting, estimation, sales, system design, purchasing, field operations, and project reporting.
Often, poor or ineffective communication, along with missing or incomplete information can mean the difference between success and failure.
Now, A/V systems integrators will be able to use the combined features of ConnectWise Manage and D-Tools System Integrator. This allows integrators a "seamless workflow" that ties-together the initial project proposal and design with procurement, inventory tracking, project scheduling, service, support, and ConnectWise Help Desk management.
Related: ConnectWise Sell Gives a Face-Lift to Proposal and Service Contracts
D-Tools and ConnectWise have partnered to ensure that all aspects run as seemlessly as possible, and are accurately tracked from the initial proposal and system design through purchase, installation, and on-going service.
Additionally, ConnectWise Manage and D-Tools System Integrator can help users streamline operations, standardize processes, and improve operating efficiencies, while enabling clear and consistent communication between team members. Not only does this provide effective visibility and accountability, it allows every department and associated tradespeople to work as a single, cohesive team, using powerfully integrated applications that simply get the job done.
Audio/Video
Product Briefs: RTI Samsung Driver; Dish, American Airlines; Key Digital Software
$2,199 Marantz 4K Surround Pre-Processor is IMAX Enhanced Certified, Dolby Atmos Ready
DVIGear DVI HyperLight Cable Series Supports Data Rates up to 4.95Gbps
Coastal Source Scales Up High-End Outdoor Audio, Lighting Lines
Affordable Hisense Smart TV Series Includes Roku TV for Less Than $300
View more on Audio/Video
Take Our Latest Quizzes
How Well Do You Understand Ethernet Cables and Connectors?
Quiz: Is Your Company Performance Above or Below Average?
How Much Do You Know About Cell Phone Signal Boosters?
How Efficient Is Your Service Department? Take the Quiz
5G and the Need for Cellphone Signal Boosters—Do You Know Enough?