Chicago-Area Rep Firm to Host Home Theater Training, Demos
CDMI will hold a free two-day training and demo event April 5-6 in Chicago featuring sessions from ihiji, Just Add Power and others.
CE Pro Editors ·
March 20, 2011
http://www.cdmiinc.com" title="CDMI">CDMI, an independent rep firm serving Illinois, Wisconsin and Michigan, will host a two-day Spring Home Theater Show for dealers on April 5-6, 2011.
The event will feature live product demonstrations, informative training sessions and giveaways from several manufacturers. Taking place at the Dana Hotel and Spa, 660 North State Street, Chicago, IL 60654, near the city's famous Miracle Mile, manufacturers will exhibit their products in private demo suites. The demo suites will be setup to showcase products in a live environment, providing each attendee the opportunity to see what is new and network with manufacturer representatives in a low-key, interactive, and educational environment.
Manufacturers participating in the show include AudioControl, avielo, dnp, ihiji, JL Audio, Just Add Power, RBH Sound, Russell Systems, Inc., Schneider Optics, StereoStone, and United Leather, with more expected by show time. Show hours are Tuesday, April 5th 9:00 a.m. – 9:00 p.m. and Wednesday, April 6th 9:00 a.m – 5:00 p.m.
In terms of education, there will be sales and service sessions covering topics such as: How to select manufacturers to partner with, how to design a home theater/media room, how to do Audio calibrations, how to do video calibrations, how to get referrals, how to be more profitable, and why owning the network is so important for the future.
ihiji vice president of technical operations and co-founder Michael Maniscalco will deliver a detailed product presentation on the ihiji invision product and outline service contract best practices. New features, including Crestron and Control4 integration modules will be demonstrated. Maniscalco will lead a separate session on April 6 about ways to sell remote managed services that is worth 0.25 CEU credirs from CEDIA.
In another session, Ed Qualls of Just Add Power will discuss HDMI over IP technology.
The event will include food, drinks and door prizes. To attend the free 2011 CDMI Spring Home Theater Show call 312-890-2364 or email susan@cdmiinc.com or john@cdmiinc.com.
---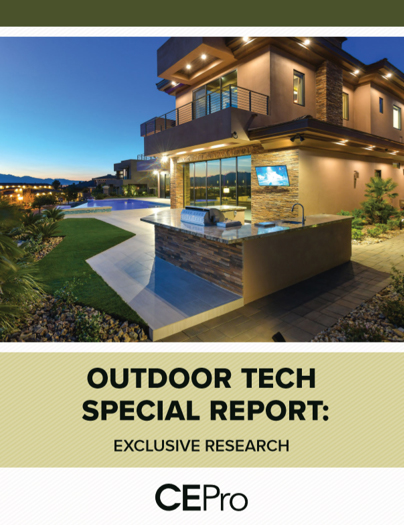 Find Out Why 63% of Integrators Expect Outdoor Business to Grow - CE Pro Download
The outdoor technology market is growing – both the demand from customers and the array of products available. According to our recent CE Pro survey, integrators are taking advantage of this opportunity to grow their businesses. Get your copy of the survey today.
---