CEDIA Expo Q&A: Revolv Announces Installer Program, Insiders Group
Revolv also develops new webpage dedicated to resources for installers, will participate in CEDIA Expo 2014.
CE Pro Editors ·
September 5, 2014
Revolv will be exhibiting at CEDIA Expo 2014 in booth 1332. Michael Dee gives us a preview of what to expect.
What would you say to dealers who are already familiar with your product line?
We've been listening to you. Come see what's new at Revolv.
What would you say to dealers who are stumbling across your company for the first time?
Mainstream home automation is coming. See how Revolv lets you participate without re-engineering your entire company on this new market segment.
What's your most memorable CEDIA moment?
None yet…we're still pretty new to this channel.
Do you have any giveaways, contests or quirky features planned for CEDIA?
Revolv is introducing three new announcements for CEDIA installers. The first is our formal Official Revolv Installer program. The second is a new page on our website dedicated to resources aimed at customer installers. The third is the introduction of the Revolv Insiders Group designed specifically for beta testers willing to help Revolv create the right product for CEDIA member companies.
For those looking to become dealers, contact Michael Dee at mdee@revolv.com.
---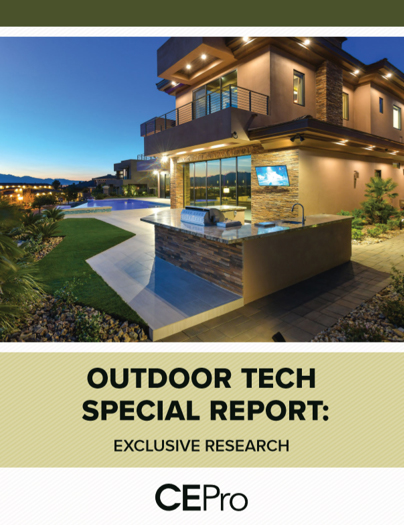 Find Out Why 63% of Integrators Expect Outdoor Business to Grow - CE Pro Download
The outdoor technology market is growing – both the demand from customers and the array of products available. According to our recent CE Pro survey, integrators are taking advantage of this opportunity to grow their businesses. Get your copy of the survey today.
---