CEDIA 2018 Find: TV Template Wins the Show for Best Instructional Video
Exhibiting at CEDIA Expo 2018 with TruAudio, TV Template offers reusable posters to pick just the right-sized display for any space. Hilarious video shows how it's done.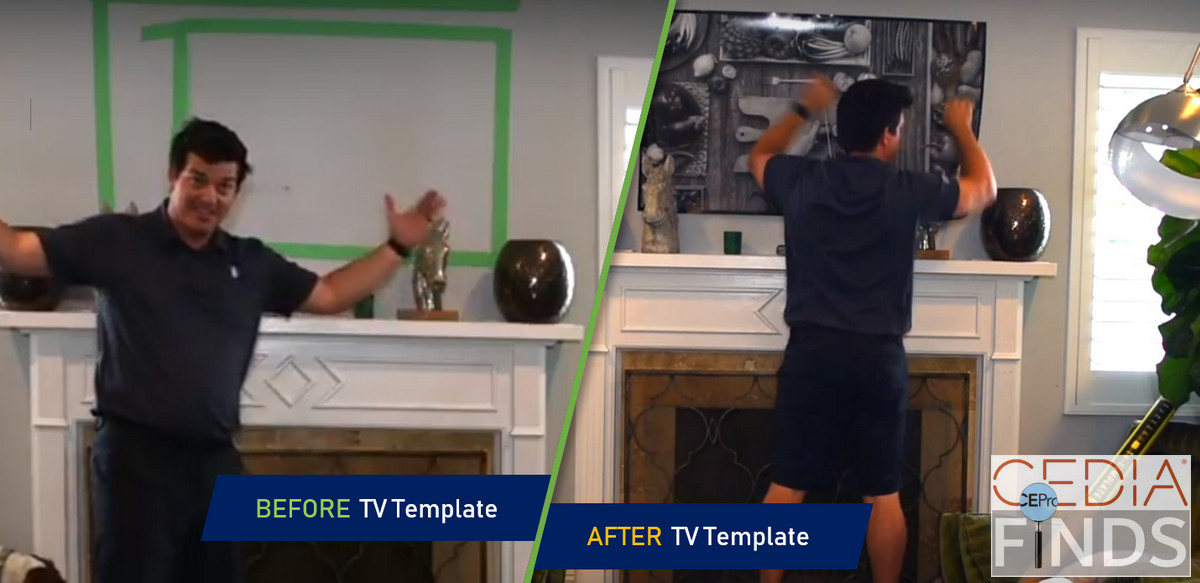 Julie Jacobson
·
July 18, 2018
One of the best instructional videos for a new CEDIA exhibitor comes from TV Template, a newcomer sharing a booth with TruAudio at CEDIA Expo 2018. The start-up makes templates. For TVs.
Contemplating a 55-inch display? Unfurl that template and tape it to the wall. Too small? Try the 65-inch template.
The start-up is the brainchild of Rusty Deeble, owner of the integration company Digital Installers in Long Beach, Calif.
"The story on TV Templates is simple," Deeble tells CE Pro. "We were tired of using blue tape to mark a size of a TV, or customers asking us to mark a bigger or smaller size ... or asking if we can now mark the walls in the bedrooms or even the outside TV."
The process has been ongoing for 18 years, he explains, "and it was consuming time and still not giving a customer a good visual."
As Deeble's integration company grew, the problems multiplied, and Digital Installers would be stuck with TVs that didn't look right once installed.
"As a salesman I feel a lot time was wasted discussing the size of the TV and felt the customer was thinking I was trying to oversell them or the home owners would argue over the size," Deeble says. "Now with a TV template the customer picks the size by understanding the visual template, and we spend time on selling the quality of the TV. Salesmen and installers are able to separate themselves from the size argument."
Today, the templates enable "faster and more professional walk throughs, no more returns, and less pressure on the designer," Deeble says.
CHECK OUT MORE CEDIA 2018 FINDS
The reusable templates come in a tube with six sizes – 40, 49, 55, 65, 75 and 85 inches – all for $39.
They're not just for A/V installers, Deeble suggests. They can work for do-it-yourselfers as well as real-estate agents in staging a home.
TruAudio made a bulk purchase to get help get the product on the market, and Deeble is seeking distributors to take on the line.
As for the instructional video, "a couple of integration companies say they couldn't get the templates back in the tube, so ... "

---
2019 State of the Industry Special Report - CE Pro Download
The custom electronics industry saw a healthy 8 percent growth rate in 2018, down slightly from the blazing 11 percent growth in 2017 but still admiringly strong. Our 2019 State of the Industry indicates that readers expect to see even more growth in 2019. Get your copy today.
---
About the Author
---
Julie Jacobson, recipient of the 2014 CEA TechHome Leadership Award, is co-founder of EH Publishing, producer of CE Pro, Electronic House, Commercial Integrator, Security Sales and other leading technology publications. She currently spends most of her time writing for CE Pro in the areas of home automation, security, networked A/V and the business of home systems integration. Julie majored in Economics at the University of Michigan, spent a year abroad at Cambridge University, earned an MBA from the University of Texas at Austin, and has never taken a journalism class in her life. She's a washed-up Ultimate Frisbee player currently residing in Carlsbad, Calif. Email Julie at jjacobson@ehpub.com
Follow Julie on social media:
Twitter · LinkedIn · Google+
Julie also participates in these groups:
LinkedIn · Google+
Home Theater
Product Briefs: Fibaro, SmartThingsRutherford Audio, Goldnote; ProSource adds Dish
Dish Enhances Custom Integration Program with RMR Bonuses
Hands On: BenQ HT9060 4K LED Projector is Ideal for Multipurpose Rooms
Dynamic Mounting Launches 12 TV Mounts for Over-the-Fireplace Installs
Josh.ai Integrates With LG Displays for Voice-Controlled Entertainment
View more on Home Theater
Take Our Latest Quiz
How Well Do You Understand Ethernet Cables and Connectors?
Bose