CE Pro Video Weekly News: CEDIA Expo Surprises; Solving Acoustical Problems; Great Looking Racks
CE Pro web editor Jessica Camerato discusses what surprises are in store at CEDIA Expo, from Sonos to Locqus to Bocci. She also reminds dealers that the Great Looking Racks contest deadline is September 8.
CE Pro Editors ·
September 1, 2015
A review of last week's news in custom electronics reveals some worthwhile articles to check out.
First, Julie Jacobson takes a look at some "surprises" planned for the upcoming CEDIA Expo in Dallas from October 14-17. Everyone knows about Sonos, which has some big announcements planned for the show, but what about lesser-known exhibitors like b3pro, Locqus and Bocci? She also looks at what is on tap from Core Brands, HydraConnect, Sony, Clare Controls and ConnectWise.
Also, senior editor Bob Archer offers an interesting look at how integrators can best resolve various home acoustics conundrums. At the same time, he looks at acoustical problems and solutions in the commercial market.
Lastly, a reminder that September 8 is the deadline to enter the CE Pro Great Looking Racks contest sponsored by Middle Atlantic Products. Dealers are invited to share their best rack installations and win a valuable prize, plus exposure for your great installation.
---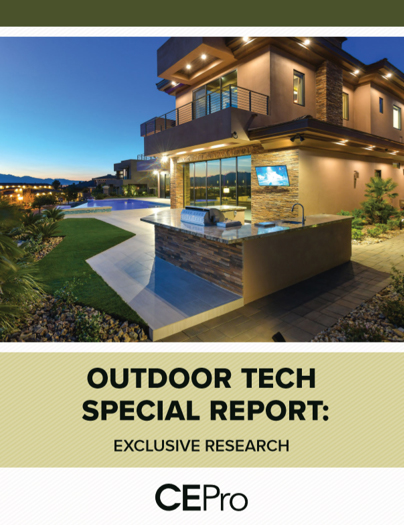 Find Out Why 63% of Integrators Expect Outdoor Business to Grow - CE Pro Download
The outdoor technology market is growing – both the demand from customers and the array of products available. According to our recent CE Pro survey, integrators are taking advantage of this opportunity to grow their businesses. Get your copy of the survey today.
---