CE Pro 100: Biggest Challenges Facing Home-Technology Integrators in 2018
Among the highest-revenue home-technology installers, the biggest challenges for 2018 will be finding employees, tight product margins, maintaining efficiency, and supporting a profitable service/RMR business.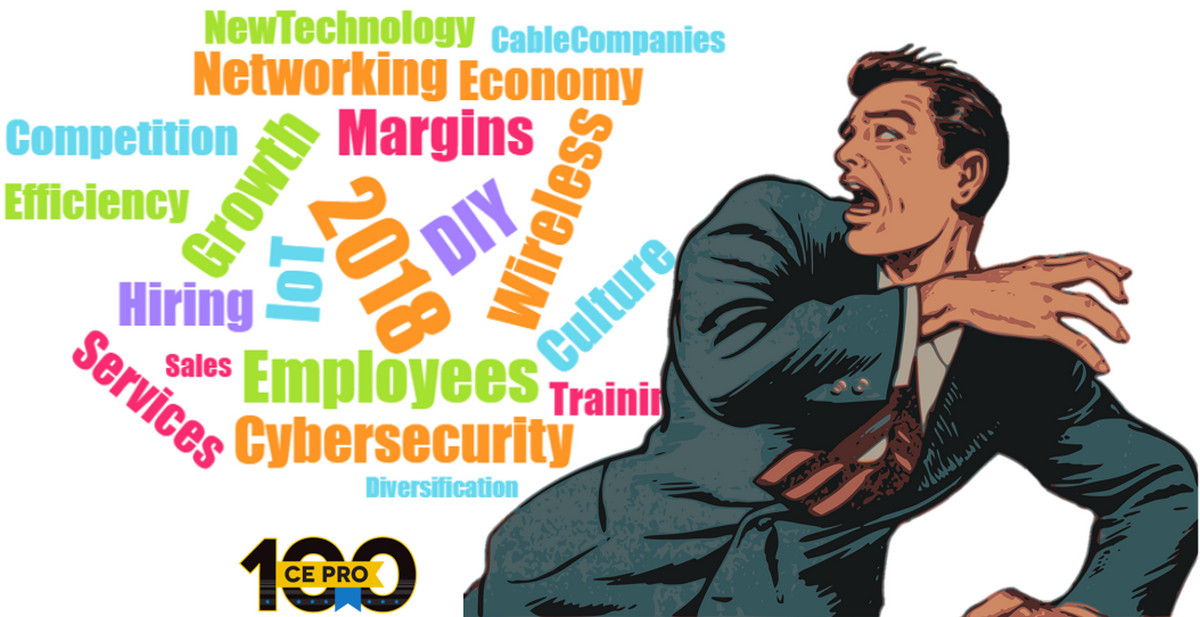 Jason Knott
·
May 8, 2018
When is something a "good" problem? For many CE Pro 100 integrators, business is so strong that one of the biggest challenges they face is finding quality labor to keep up with the demand. It's definitely a "good" problem to have. Here is a sampling of just some of the challenges facing the industry's highest revenue integrators in 2018 and how they plan to address those hurdles.
When asked "What is your biggest challenge in 2018?" the array of answers were diverse overall. Take a look and see what you can glean from their experience for your own company's benefit.
---
Finding Quality Employees
---
"Attracting quality employees for our growth. We aim to raise our company profile in the industry by entering into CEDIA Awards." —Jeff Funk, Principal, A Shade Above
"Finding technicians who are hard-working, knowledgeable, and willing to put in the hours is hard to find. But now we also will need a supporting in-house staff to make sure our processes stay intact. Already we've built a majority of our office and processes around iPoint. We are constantly keeping ads running on indeed and are being renewed on Facebook. Overall, we've also learned (or like to think we have) to read employees and be more selective before we hire people." —Robert Burns, COO, Audio Video Concepts & Design
"Diversifying our residential/commercial options and job ratio. Planning our go-to-market strategy and implementing a new sales approach. Finding a competent outside salesperson and/or shifting around internal admin and operations positions and doing it from within." —Chris Palmer, Operations Manager, A/V Design Consultants
"Hiring qualified personnel and getting them adequately trained. We will continue to seek the highest level of qualified staff through all methods, social media, websites, job placement services, to name a few. We will also be asking more of our vendors to do closed trainings at our facility as opposed to sending staff out of state for training wherever possible." —Deborah Ross, Controller, Audio Video Excellence
"Obtaining qualified talent: We'll address this by promoting from within, not just place employment ads but search available applicants. We will increase employee referrals with a bonus program." —Laurie Lovely, CFO/Office Manager, e4 Control Systems
"Finding technicians possessing a good work ethic continues to be a struggle. We offer on the job training and still have difficulty hiring persons that want to work. The labor pool has dried up completely." —Dee Straub, VP / COO, Structured Cable of VA
"With home automation becoming extremely accessible to all levels of homeowners, we have seen a significant increase in home automation installations. Finding technically qualified labor to perform installations while remaining professional in a customer's home, continues to be a challenge. We have expanded our recruiting resources." —Diana Grady, Contract Administrator, C&R Systems
"A constant process to find good people, train them in all the facets of our business and then retain them. Good hiring practices, good referrals from other employees and spending more time on industry trainings as well as vendor specific trainings we think will help." —Thomas Callahan, President, Sawyers Control Systems
---
Managing Growth
---
"Seeking new opportunities and areas to grow the business successfully. Managing the growth and becoming more efficient with processes and implementation." —Kimberly Bucholsky , Office Manager, All Systems Audio& Video
"Growing internally as the market demands. I expect we will need to hire more staffers and train them accordingly." —Rick Goren, President, Technology Interiors
"Keep momentum going with our company to keep growing. Hire more salespeople. We need to stay up to date with product knowledge and adding more products and services to address pricing changing and slimmer margins." —Marie Devlin, Vice President, Smart Systems
"Finding quality employees and continued training of our existing employees. We continue to grow and our growth is handicapped by how much we can deliver with the number of employees we have. We do have a third-party model but use less of this group as the cost is higher due to quality and control to achieve a standard for the end result our clients are looking for." —Gregory Brett, Owner, Sounds Good Corp.
"Maintaining fast growth with new hires. We are implementing our new Sage standards with a large focus on training." —Justin Schwartz, President, Sage AVT
"Policing our culture and our quality as we expand. It was really easy to make sure everything was getting done to the standards of the owner when we had five people; now that we have 20 that gets a lot harder. While my label is technically CEO, in reality it's CCO (Chief Culture Officer)." —Brian Richards, CEO/President, Precision Media Solutions
"Maintaining a stable stream of jobs to support a growing team and developing salespeople. Training upcoming project managers and finding replacements for their current roles. Implementing a service plan and warranty program by researching our local market and its trends in order to put contracts together that make sense for both the customers' needs and our business." —Nina Clarkson, EI Director, Bekins
---
Service and Efficiency
---
"Our biggest challenge continues to be service. As we've continued to grow through the years we've had to delegate more workforce towards service, which seems to be a breakeven arm of our business on a very good year. Unfortunately, society has shifted into an instant-gratification world and setting client expectations seems to have become more challenging. And when we do complete that service call, many times it's the Internet Service Provider or another outside source that caused the issue. We've created new processes to do our best to streamline, set expectations early, etc. and hope to continue to formulate new ways to deal with this." —Stacy Worley, CFO, Desert Valley Audio Video
"To be more efficient and cost effective. In 2018 we will take the time to define our priorities and be more efficient than ever." —Joseph Akhtarzad, Owner, Just One Touch / Video & Audio Center
"Continued increase in competition (notably from cable), combined with increased customer demand on improved services. Focus on the customer has been and will continue to be paramount to our business success." —Justin Demek, Financial Analyst, Guardian Protection Services
"Managing efficiency and continuing to improve efficiency along with procedures for well-executed projects, and finding more profitability doing less volume." —Shawn Hansson, CEO/Founder, Logic Integration
---
Keeping up With New Technology
---
"The rise of 4K and HDCP 2.2 technology and how to properly implement it into our customers' systems." —Chris Porter, General Manager, Peak Companies (Peak Audio & Video and Peak Alarm)
"Improving our offerings to remain competitive in the marketplace through our knowledge and the services that we can provide. The range of connected products now available to consumers from a multitude of suppliers presents challenges in sales training, installation and customer education, as consumers are becoming more and more aware of what is available to them. We are continually looking for innovative ways to display and demonstrate these new technologies to our customers." —Doug Bravin, COO, Bjorn's Audio Video
"Growing and expanding in new areas for new tech and or new services. Learning new IT needs that work well with A/V products. We will address these by hiring the correct professionals." —Buddy Hughes, Owner, Crown Audio Video
"Embracing some of the DIY Internet of Things technology with our current offerings while educating the market on the values of our business compared to the competition. We've seen some really nightmare type scenarios of integrators not understanding networking technology and just piecing systems together that will never function properly. As much as we want to help those clients, it typically is not a profitable scenario for the team that cleans up that system. We're trying to get out in front of those smaller businesses and start the conversation early, especially in the new construction market." —Wes Bradshaw, Owner, Sunbelt Technology
---
Secure Your Free Pass to CEDIA EXPO 2019
Register before Sept. 2 to gain free access to the opening keynote, product training & education series as well as the show floor including Innovation Alley and much more. Don't miss your chance. Sign up today.
---
About the Author
---
Jason Knott is Chief Content Officer for Emerald Expositions Connected Brands. Jason has covered low-voltage electronics as an editor since 1990, serving as editor and publisher of Security Sales & Integration. He joined CE Pro in 2000 and serves as Editor-in-Chief of that brand. He served as chairman of the Security Industry Association's Education Committee from 2000-2004 and sat on the board of that association from 1998-2002. He is also a former board member of the Alarm Industry Research and Educational Foundation. He has been a member of the CEDIA Business Working Group since 2010. Jason graduated from the University of Southern California. Have a suggestion or a topic you want to read more about? Email Jason at jason.knott@emeraldexpo.com
Follow Jason on social media:

Jason also participates in these groups:
LinkedIn · Google+