Cary Audio Reference Series Amp Produces Over 50W of Power
The $15,995 per pair CAD-805 Reference Series tube amplifiers from Cary Audio target integrators' music-loving clients with Class A monoblock design.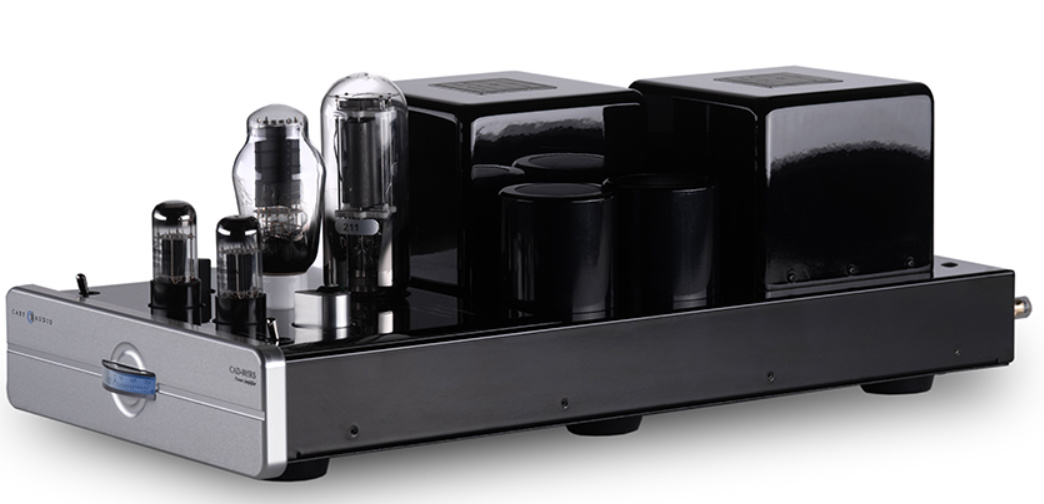 Robert Archer
·
July 17, 2018
Updating its popular CAD-805 monoblock tube amplifier, the $15,995 per pair Cary Audio CAD-805 Reference Series (RS) is a well-suited solution for integrators serving music-loving clients who want classic sound through new technologies.
Indeed, the product is designed for audiophiles who prefer the tonal characteristics of single-ended triode (SET) tube amplifiers operating in a Class A design output mode, according to Cary Audio.
Aesthetically, the amp is finished in either anodized black or silver with a front-panel meter. The CAD-805RS' top plate features an anthracite black-gloss enamel with white silkscreen lettering.
On the top-left side, users will find the power switch, and the top-right side of the amp includes a standby/operate switch to power up either 211 or 845 output tubes.
The top-right side also features a rotary knob allowing users to adjust negative feedback on a global basis. The adjustment starts in the off position and provides a continual rotation maximum of 10dB.
In addition, the top of the amp houses a pair of 6SN7 input-stage tubes, a 300B driver-stage tube, and users get the option of using either an 845 or 211 output tube. The remaining hardware on the top of the amp is the input and output transformers, and four electrolytic capacitors.
The amp's rear-panel features a bias jack for use with an external meter to bias the amp's tubes, along with 4-, 8- and 16-ohm speaker connections, RCA and XLR inputs, a detachable power cable socket, and two fuses for the amp's tubes.
Cary Audio Employs Air-Gap Design
The single-ended audio input signal passes to the control input grid of the first 6SN7 tube, and the 6SN7 tubes operate in a parallel dual-triode conventional resistance coupled Class-A configuration where the first gain stage is coupled to the next 6SN7 tube.
The amp's second stage operates in a series anode constant Class A mode which passes the signal through a coupling capacitor to the grid of the 300B driver stage tube. The 300B runs in a Class A single-ended mode utilizing fixed negative grid voltage.
Related: Cary Audio's All-in-One-System (AiOS) Is Designed for New Generation of Audiophiles
At this point, the signal passes from the 300B driver stage to a directly coupled grid of the 211- or 845- output tube.
Cary employs an air-gap design with a flat frequency response from 30Hz to 23kHz, and the interstage transformer design from the driver stage to the output stage, enabling the amp to produce 27 watts of Class A power.
At higher volume levels the amp goes into a positive-grid mode with a power capability of 50 watts of Class A2 power. When using a 211-output tube, the power level reaches levels up to 70 watts at clipping.
The 85-pound amp measures 10 inches tall by just over 12 inches wide, along with a 24-inch depth.
---
We're Looking for Your BEST Projects
Don't miss your chance to enter to win a 2019 BEST Projects Award. We'll be announcing winners at a special Gala event at CEDIA EXPO. We can't wait to see what you've been up to this year! Enter your projects now.
---
About the Author
---
Bob is an audio enthusiast who has written about consumer electronics for various publications within Massachusetts before joining the staff of CE Pro in 2000. Bob is THX Level I certified, and he's also taken classes from the Imaging Science Foundation (ISF) and Home Acoustics Alliance (HAA). Bob also serves as the technology editor for CE Pro's sister publication Commercial Integrator. In addition, he's studied guitar and music theory at Sarrin Music Studios in Wakefield, Mass., and he also studies Kyokushin karate at 5 Dragons in Haverhill, Mass. Have a suggestion or a topic you want to read more about? Email Robert at robert.archer@emeraldexpo.com
Follow Robert on social media:
Twitter
Robert also participates in these groups:
LinkedIn · Google+