Best Practices for Optimal Network Design in Smart Homes
Originally recorded LIVE on 03/09/16: View this FREE webcast to learn best practices and technical requirements for setting up home networks for smart systems.
Webcast Details:
Moderator
Julie Jacobson, Co-Founder and Editor-at-Large, CE Pro
Date/Time
March 9, 2016 - 2:00PM
Runlength
1 Hour
Archive Link
https://vimeo.com/196485714/e38...
Sponsored by
Pakedge URL
https://www.pakedge.com/
Record Date/Time: March 9, 2016 at 2:00PM
Webcast Length: 1 Hour
View archive!
It's not enough to be a network technician or a control systems integrator. As technologists you need to be experts in total system design. High-tech network ecosystems must be carefully configured to not only meet customer needs, but should also be designed for scalability and optimization.

This FREE webinar on Wednesday, March 9, at 2 p.m. EST, sponsored by Pakedge, will overview best practices and technical requirements for setting up home networks for smart systems.

During this one-hour webinar you will learn:
The key requirements when designing a smart environment
What are the functional needs of the control system, including how to communicate across multiple VLANs or when to use a singleVLAN?
What are the main network requirements and design considerations for supporting a control system, including recommendations for using managed switches, keeping RF communications clean, VLAN implementation in large projects, and wireless design?
What does good smart home network design look like? Examples of effective topologies will be given?
What are the best practices for a smart home network design? QoS for VoIP is just one important factor.
---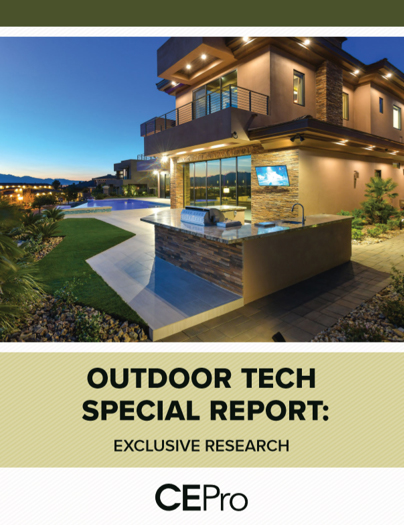 Find Out Why 63% of Integrators Expect Outdoor Business to Grow - CE Pro Download
The outdoor technology market is growing – both the demand from customers and the array of products available. According to our recent CE Pro survey, integrators are taking advantage of this opportunity to grow their businesses. Get your copy of the survey today.
---
Networking & Cables
Product Briefs: AudioResearch, Kwikset; Play-Fi, AirPlay2; Lenbrook Joins D-Tools i3
Boccaccio: Don't Leave Test Results of Eye of the Beholder
Control4, SnapAV CEO Interviews: Analyzing the Home Automation Merger
Last Day to Enter Listings for 2019 CE Pro Distribution Guide
Bosch Drill/Drivers Supported With Companion App
View more on Networking & Cables
Take Our Latest Quiz
How Well Do You Understand Ethernet Cables and Connectors?
Bose