Best Buy to Focus on Total Tech Support as 'Giftable' Holiday Item
Best Buy reports strong Q3 revenues and ups forecasts for 2019. In-Home Advisors and Total Tech Support programs will spur growth.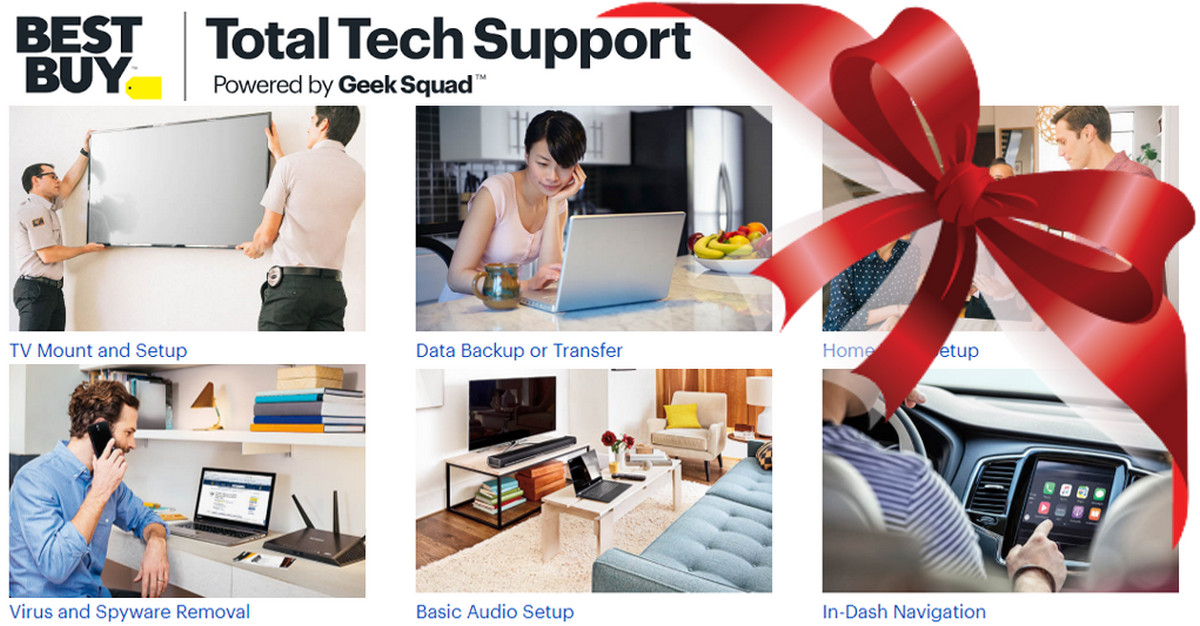 Jason Knott
·
November 21, 2018
Best Buy's commitment to building recurring revenue around the smart home installation market appears to be working very nicely indeed. The company is putting smart-home service squarely in focus for the upcoming holiday season, particularly the newish Best Buy Total Tech Support program, powered by Geek Squad.
The CE Pro 100 company reported Fiscal Year 2019 Q3 revenues of $9.6 billion, driven by comparable sales growth of 4.3 percent. In the U.S., the giant retailer grew revenues to $8.8 billion, up 3.1 overall. Its online revenues hit $1.21 billion, representing 13.8 percent of domestic sales. That online growth is 22.3 percent higher than FY Q3 2018.
Overall, Best Buy (NYSE: BBY) took 24.4 percent of its revenues to the bottom line. That profit rate is slightly down from last year due to its investment in deploying its In-Home Advisor and Total Tech Support programs nationwide, as well as costs associated with its $792 million purchase of GreatCall, a connected health services provider for aging consumers.
As a result of this strong Q3, the company raised its outlook for Q4. Best Buy expects to do $14.8 billion in sales in the final three months of 2018. For the full FY 2019, the Richfield, Minn.-based company expects to his $42.9 billion in sales.
Investors reacted positively to the news. On the day of the announcement,. Best Buy's stock price rallied nearly 2.5 percent to a high of $63.54/share on a day when the overall stock market was taking a beating, losing 550 points.
Best Buy Total Tech Support in Focus for Holiday Sales
"This will be our first holiday with Total Tech Support and we are excited to offer it to customers as a giftable item."
— Hubert Joly, Best Buy
Best Buy CEO Hubert Joly cited the company's Total Tech Support rollout as one of the primary reasons for the strong quarter, and says the program will be front and center for the holiday sales season. The recurring-revenue program offers consumers unlimited Geek Squad support of all their technology, no matter where it was purchase, for an annual fee of $199. Members also get discounts on installations. Joly called the number of signups "encouraging" and tracking "in line with our expectations," although the specific number of signups was not revealed.
"Notably, this will be our first holiday with Total Tech Support and we are excited to offer it to customers as a giftable item," he says. "This is the number one thing our retail teams have been asking for since the launch of Total Tech Support last May. It is a great way for gift givers to ensure the technology they're giving to their loved ones, will be set up and working as it should be."
Overall, the company is expecting a massive holiday shopping season for TVs, computing, gaming, toys, phones, smart home devices, and large and small appliances. Its Black Friday ad includes 52 pages of deals.
Continuing its smart home focus, Joly says Best Buy expanded the number of In-Home Advisors from 300 to 530.
Related: Best Buy's Geek Squad Rolls Out $200 Total Tech Support Nationwide
"We are pleased by both the ongoing customer demand and the fact that the performance of the program continues to track in line with our expectations. As expected, it is proving out to be an important part of our strategy to build deeper and more relationship-based experiences with our customers. We are continuing to invest in customer experience enhancements. So, for example, we just rolled out the ability for our customers to make an appointment with an advisor while they are still in our stores, rather than leaving the store and waiting for us to call and schedule an appointment," notes Joly.
Another positive move by the company was enhancement of the Best Buy app. Customers can now scan products in the store using the app to see reviews, specs, features and price comparisons.
According to Joly, 72 percent of customers who use the app arrive in a Best Buy store with a product already in their virtual shopping cart. The app's On My Way feature allows customers to tell their local store they are on the way to pick up a purchased product. Store employees then bring that item to the front of the store for a faster shopping experience.
Enhanced Employee Benefits, Tariffs Impact
Knowing its smart home In-Home Advisors need special training, Best Buy is investing in that labor pool with higher compensation and benefits. We are continuing to invest in labor. Joly notes that employee turnover is in the low 30 percent range, down from several years ago. Employees now also receive benefits that include specialized training, tuition reimbursement, product discounts, paid caregiver leave, backup child care, paid time off for part-time employees and enhanced mental health resources.
Lastly, Jolie addressed the Chinese tariff situation, saying the increased costs affect 7 percent of its total product mix, or about $2.3 billion of goods sold. He said the overall impact of the tariff increases will be "minimal" on Best Buy, but the company is keeping its eye on the situation.
---
We're Looking for Your BEST Projects
Don't miss your chance to enter to win a 2019 BEST Projects Award. We'll be announcing winners at a special Gala event at CEDIA EXPO. We can't wait to see what you've been up to this year! Enter your projects now.
---
About the Author
---
Jason Knott is Chief Content Officer for Emerald Expositions Connected Brands. Jason has covered low-voltage electronics as an editor since 1990, serving as editor and publisher of Security Sales & Integration. He joined CE Pro in 2000 and serves as Editor-in-Chief of that brand. He served as chairman of the Security Industry Association's Education Committee from 2000-2004 and sat on the board of that association from 1998-2002. He is also a former board member of the Alarm Industry Research and Educational Foundation. He has been a member of the CEDIA Business Working Group since 2010. Jason graduated from the University of Southern California. Have a suggestion or a topic you want to read more about? Email Jason at jason.knott@emeraldexpo.com
Follow Jason on social media:

Jason also participates in these groups:
LinkedIn · Google+
Control & Automation
Biophilia: Nature Sounds vs. White Noise for Productivity and Wellness
Dish Rolls Out New Direct-to-Consumer Smart Home Service
New GE-Brand Z-Wave Smart Light Switches Available in Five Styles
Interlogix and Inflotrolix Team Up to Offer New Water Leak Detection System
Making Landscape Lighting a Profitable Revenue Source
View more on Control & Automation
Take Our Latest Quiz
How Well Do You Understand Ethernet Cables and Connectors?
Bose