Are Your Clients' Homes Ready for 5G? (Probably Not)
The physical properties of 5G cell signals means it will be harder for your clients to get strong cellphone coverage ... unless you sell them a signal booster.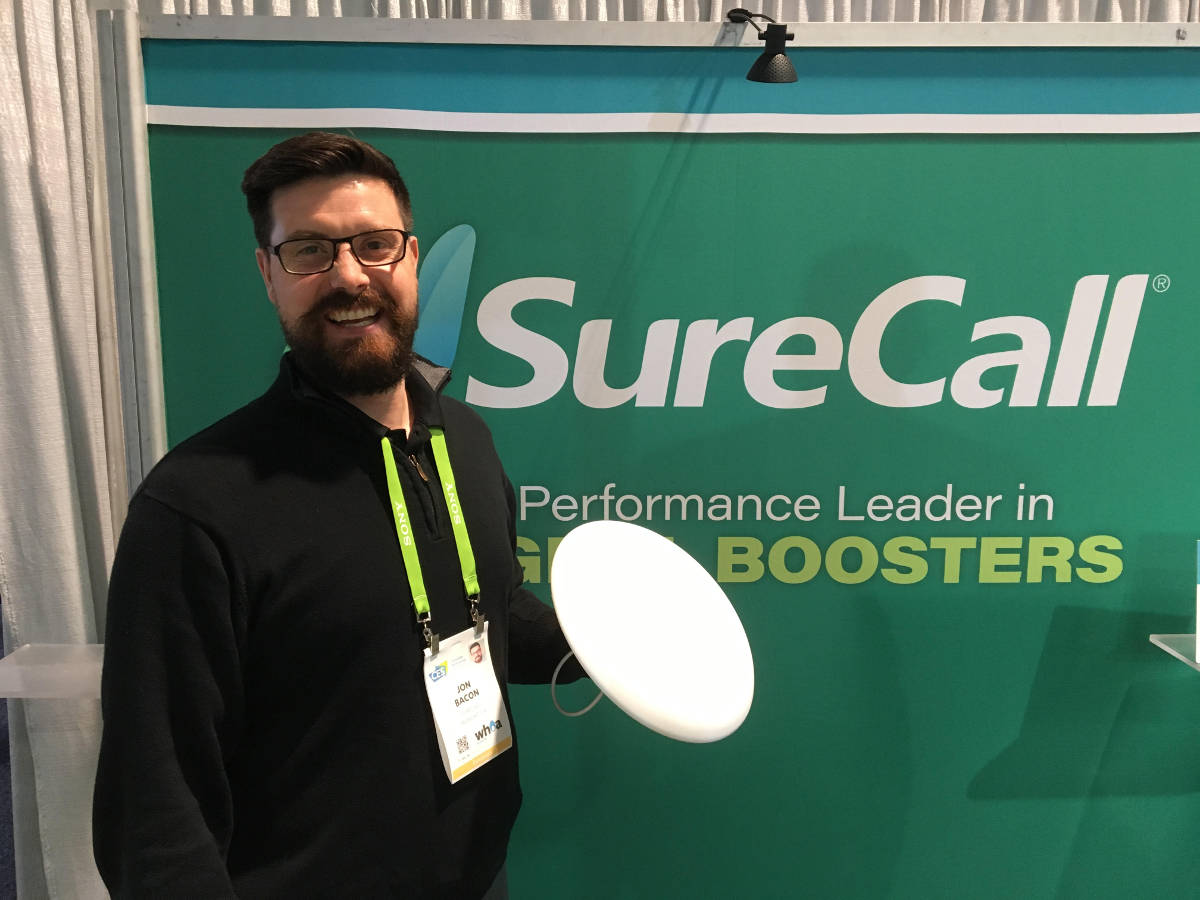 More about SureCall
SureCall® specializes in the design and manufacture of cell phone signal boosters, amplifiers and accessories. Our cellular signal boosters dramatically improve cellular...

SureCall Company Info
Jason Knott
·
January 16, 2018
Perhaps lost in all the bells and whistles at CES 2018 is an unsung category of equipment still has a huge potential growth curve for installation and profit: Cellphone signal boosters.
"With the coming of 5G, cellphone signal boosters are going to be even more vital for integrators to offer their clients," says Jonathan Bacon, vice president of marketing at SureCall. The impending 5G network will enable point-to-point cellular communication... bypassing the home network. It promises to be a boon for the increase of streaming video.
"You could argue that cellphone signal boosters will soon be more important than a home network in terms of communications."
— Jon Bacon, SureCall
"You could argue that cellphone signal boosters will soon be more important than a home network in terms of communications," says Bacon. "It's a simple question dealers should be asking every client: 'Is your home 5G ready?' The answer is likely, 'no.'"
The primary reason most homes are not ready for 5G has to do with several key factors. First, the 5G signal itself is a "tighter" signal in terms of wavelength. That tightness means the signal is not as capable at penetrating obstructions, particularly buildings. Second, the nature of how homes are being constructed today makes them unready for 5G. Windows with coatings, metal mesh on exterior walls, increased levels of insulation are all aimed at making the home's building envelope tighter and less susceptible to entry/exit of heat or cold. But that also means cellphone signals cannot get it.
SEE RELATED: Why Dish Spent $20B on 5G Spectrum
"It's a pretty simple sales process," says Bacon. "All you have to do is walk into the home and see how many bars there are on your cellphone."
SureCall continues to tout dealers' ability to sell RMR service contracts using its Force5 cellphone signal booster. Just like a home network with cybersecurity protection needs, a cell network needs to be managed. Dealers can charge monthly fees to optimize the cellphone signal network, especially for homes and businesses where more than one carrier is being used.
To help dealers, at CES 2018 SureCall was showing off its Ultra Thin Antenna, a low-profile indoor dome antenna. The Ultra Thin is an omni-directional 50 ohm ceiling-mount antenna that transmits and receives signal in a 360 degree pattern- covering 2G/3G/4G and WLAN systems for Cellular, PCS, AWS and LTE frequencies. Features include:
N-Female connector (50 ohm)

3.5 dBi / 7.5 dBi Gain

Wide band: 2G, 3G & 4G LTE (698 - 2700 MHz)

Two mounting options for all ceiling types

Connects to booster with SC-400 cable (sold separately)

---
2019 State of the Industry Special Report - CE Pro Download
The custom electronics industry saw a healthy 8 percent growth rate in 2018, down slightly from the blazing 11 percent growth in 2017 but still admiringly strong. Our 2019 State of the Industry indicates that readers expect to see even more growth in 2019. Get your copy today.
---
About the Author
---
Jason Knott is Chief Content Officer for Emerald Expositions Connected Brands. Jason has covered low-voltage electronics as an editor since 1990, serving as editor and publisher of Security Sales & Integration. He joined CE Pro in 2000 and serves as Editor-in-Chief of that brand. He served as chairman of the Security Industry Association's Education Committee from 2000-2004 and sat on the board of that association from 1998-2002. He is also a former board member of the Alarm Industry Research and Educational Foundation. He has been a member of the CEDIA Business Working Group since 2010. Jason graduated from the University of Southern California. Have a suggestion or a topic you want to read more about? Email Jason at jason.knott@emeraldexpo.com
Follow Jason on social media:

Jason also participates in these groups:
LinkedIn · Google+
Networking & Cables
Product Briefs: HTA Calculator; Onkyo, Pioneer Firmware; KanexPro, DTV GameControl; Luxul Firmware
Power vs. Data Rate: Is There a Compromise?
Interview: Vanco President Discusses A/V-over-IP Adoption, HDMI 2.1, More
$70 EnGenius Smart Mesh Router Provides Budget-Friendly Wi-Fi Reliability
Why 5G Won't Replace Fiber or Cable Broadband
View more on Networking & Cables
Take Our Latest Quiz
How Well Do You Understand Ethernet Cables and Connectors?
Bose