App Store Coming to Windows Media Center, But Not from Microsoft
Because there is no easy way to find and download plug-ins for Windows Media Center, two fans are building an "app store" at MadeForMediaCenter.com
Julie Jacobson
·
December 9, 2009
Plenty of developers offer plug-ins for Windows Media Center (WMC), but just try to find and download them, especially from a 10-foot interface. It isn't pretty.
Finally, there is now a kind-of "app store" for WMC: MadeForMediaCenter.com, developed by Media Center MVPs Ian Dixon and Andrew Cherry. Through the site, users can browse applications and download them via remote control using Media Center's TV interface.
No fussing with keyboards and mice.
"The only 'non Media Center' thing you'll get is a UAC [User Account Control] prompt if you have UAC turned on," Cherry tells MissingRemote.com. "This can be dealt with using the remote control too, so the remote control can do it all. We use the new developer features in Windows 7 Media Center to do the downloads and installs on your behalf."
The site currently is in Beta testing. Would-be participants can set up an account to provide feedback or upload new apps.
Very few apps have been loaded, but all of them are free (for now) and you can see where the site is going. Cherry says that he and Dixon are just feeling out the marketplace to gauge interest among developers and users.
Windows 7 Media Center users will no doubt be pleased with the offering, but they must be wondering: Why didn't Microsoft create such a feature on its own – many years after Apple launched its wildly popular application portal?
It seems that if Microsoft was as serious about Media Center as it professes to be, the company wouldn't require folks like Dixon and Cherry to create an app store in their free time.
Read the complete interview with Cherry at MissingRemote.com.

Electronic House Expo Spring 2010: The New Opportunities Show, March 25-27, 2010, Orlando, Fla.
Smart Energy | Commercial | Home Health Tech | Recurring Revenue | Digital Content | Retrofit
FREE CEDIA training with New Opportunities Pass
Register by Dec. 31, 2009 and save $50.
http://www.ehxweb.com
---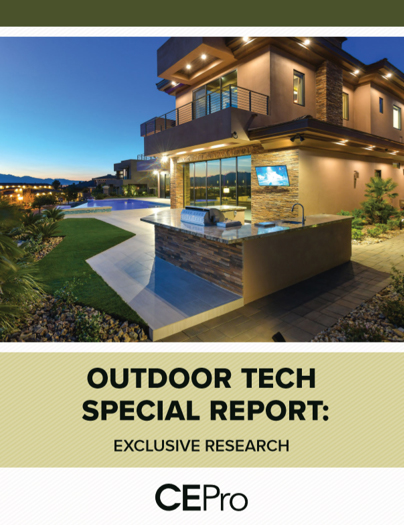 Find Out Why 63% of Integrators Expect Outdoor Business to Grow - CE Pro Download
The outdoor technology market is growing – both the demand from customers and the array of products available. According to our recent CE Pro survey, integrators are taking advantage of this opportunity to grow their businesses. Get your copy of the survey today.
---
About the Author
---
Julie Jacobson is founding editor of CE Pro, the leading media brand for the home-technology channel. She has covered the smart-home industry since 1994, long before there was much of an Internet, let alone an Internet of things. Currently she studies, speaks, writes and rabble-rouses in the areas of home automation, security, networked A/V, wellness-related technology, biophilic design, and the business of home technology. Julie majored in Economics at the University of Michigan, spent a year abroad at Cambridge University, and earned an MBA from the University of Texas at Austin. She is a recipient of the annual CTA TechHome Leadership Award, and a CEDIA Fellows honoree. A washed-up Ultimate Frisbee player, Julie currently resides in San Antonio, Texas and sometimes St. Paul, Minn. Follow on Twitter: @juliejacobson Email Julie at julie.jacobson@emeraldexpo.com
Follow Julie on social media:
Twitter · LinkedIn · Google+
Julie also participates in these groups:
LinkedIn · Google+