Amazon to Acquire eero Network Routers
Amazon has signed an agreement to acquire eero network routers for smart home Wi-Fi.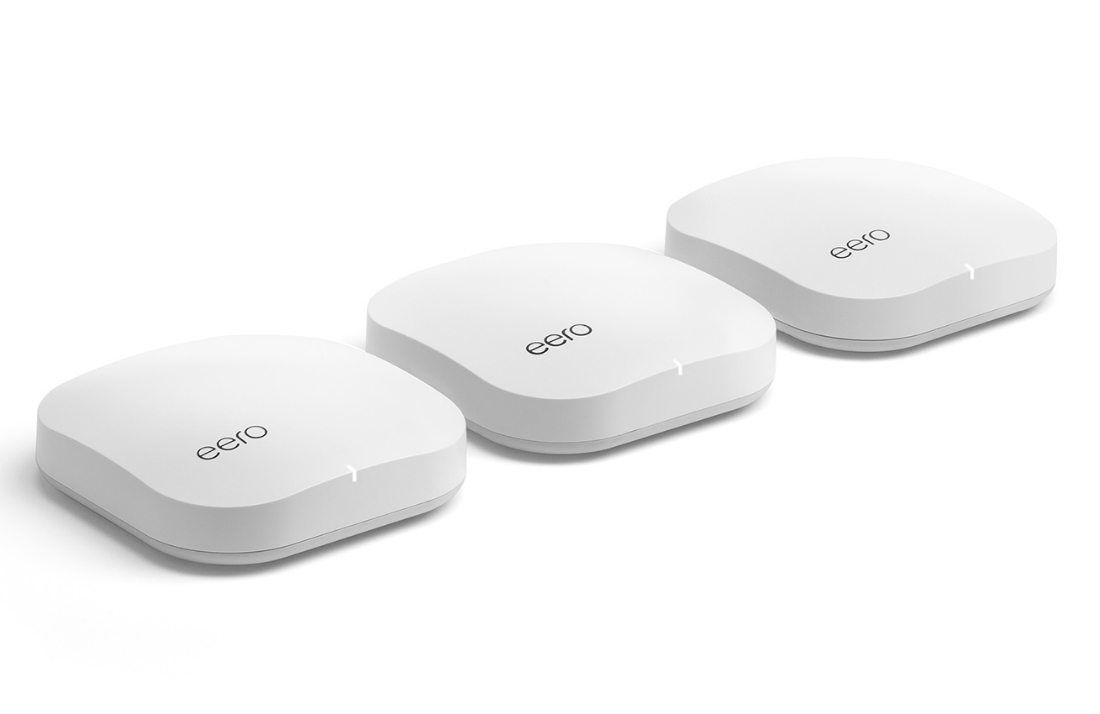 Jason Knott
·
February 13, 2019
Amazon (NASDAQ: AMZN) and eero announced that they have entered into a definitive merger agreement under which Amazon will acquire eero.
eero was founded in San Francisco in 2014 by Amos Schallich, Nate Hardison, and Nick Weaver. Its home mesh Wi-Fi systems, which set up in less than 10 minutes, are seen as an entry-level network router offering by integrators designed to set the stage for an upgrade path.
The company has also received praise from integrators for its eero Pro line, which communicates over 2.4GHz and 5GHz, with Wi-Fi compatibility, and creates a single SSID network for the home.
"We have a shared vision that the smart home experience can get even easier."
— Dave Limp, Amazon
The eero Pro system's most popular offering is a three-pack, with two- and one-packs available as add-ons for larger homes. Each eero covers about 1,000 square feet. In 2017, eero was singled out by several integrators in the annual Quest for Quality Awards for its website.
Back in 2016, a CE Pro review of the product saw eero as a less-expensive alternative for custom integrators, but lacking certain key features that integrators desire, including that configuration can only be done via the app, there is no ability to create VPNs, no meaningful visibility into the health and status of the network, devices and mesh. Also, eero's 2x2 antenna array has limitations.
More recently, the Catalyst AV distribution network reported strong sales of eero to the custom installation community in Q4 2018, with Mid-State Distributing noting that eero was going to a focus product push for the distributor.
For the DIY market, eero has a 4.6-star product rating on Amazon.com currently.
Related: eero Plus Bundles Networking Monitoring and Cybersecurity
"We are incredibly impressed with the eero team and how quickly they invented a Wi-Fi solution that makes connected devices just work," says Dave Limp, SVP of Amazon Devices and Services. "We have a shared vision that the smart home experience can get even easier, and we're committed to continue innovating on behalf of customers."
"From the beginning, eero's mission has been to make the technology in homes just work," says Nick Weaver, co-founder and CEO of eero. "We started with Wi-Fi because it's the foundation of the modern home. Every customer deserves reliable and secure Wi-Fi in every room.
"By joining the Amazon family, we're excited to learn from and work closely with a team that is defining the future of the home, accelerate our mission, and bring eero systems to more customers around the globe," says Weaver.
eero uses multiple access points that work together as a system to blanket a home in high-performing, reliable, and simple home Wi-Fi, according to a joint press release, which goes on to describe how the eero router can be set up in minutes by a homeowner, including parental controls, and is "self-updating, self-fixing, and self-improving all the time."
Completion of the transaction is subject to customary closing conditions.
---
2019 State of the Industry Special Report - CE Pro Download
The custom electronics industry saw a healthy 8 percent growth rate in 2018, down slightly from the blazing 11 percent growth in 2017 but still admiringly strong. Our 2019 State of the Industry indicates that readers expect to see even more growth in 2019. Get your copy today.
---
About the Author
---
Jason Knott is Chief Content Officer for Emerald Expositions Connected Brands. Jason has covered low-voltage electronics as an editor since 1990, serving as editor and publisher of Security Sales & Integration. He joined CE Pro in 2000 and serves as Editor-in-Chief of that brand. He served as chairman of the Security Industry Association's Education Committee from 2000-2004 and sat on the board of that association from 1998-2002. He is also a former board member of the Alarm Industry Research and Educational Foundation. He has been a member of the CEDIA Business Working Group since 2010. Jason graduated from the University of Southern California. Have a suggestion or a topic you want to read more about? Email Jason at jknott@ehpub.com
Follow Jason on social media:

Jason also participates in these groups:
LinkedIn · Google+
Networking & Cables
Product Briefs: Fibaro, SmartThingsRutherford Audio, Goldnote; ProSource adds Dish
Are Your Ethernet Connections Exposed to Harsh Elements?
Key Digital KD-DA2 HDBaseT Amplifiers Deliver 18Gbps for 4K Video
4 Adhesives Every Technician Should Have in Their Truck
Here's How to Use Yamaha MusicCast to Build the Backbone of A/V System Interoperability
View more on Networking & Cables
Take Our Latest Quiz
How Well Do You Understand Ethernet Cables and Connectors?
Bose