Alarm.com Shows Home Automation on Pebble Smart Watch
Cloud-based security and home automation provider Alarm.com demos app for Pebble, shows Google Glass for installation purposes, intros networked server for local CCTV recording.
Julie Jacobson
·
April 7, 2014
Home automation from the wrist makes perfectly good sense, and if there was any doubt, then you should have seen Alarm.com at ISC West 2014 last week.
A leader in cloud-based security and home automation services, the company showed a Pebble smart watch being used to unlock doors, arm the security system, open the garage door and more.
The Bluetooth watch communicates to the user's smart device, which handles the automation.
Elsewhere in the Alarm.com suite, one of the guys was walking around wearing Google Glass. We've seen demos in the past of how smart glasses can open doors if you just look at the lock. Alarm.com thinks there are some compelling possibilities for the installer. For example, imaging hanging a security camera and seeing in your glasses the image from the camera. You could easily make adjustments on the fly.
On a more practical-for-today note, Alarm.com has been criticized in the past for not offering a local video server to supplement its cloud-based service.
If your Internet line goes down, you want be getting that video of the bad guy tearing up the place.
The new Stream Video Recorder (about $800 retail for 1 TB) sits on the home network, capturing up to four high-def video streams simultaneously, while at the same time sending short clips to Alarm.com's cloud servers.
VIEW THE NEW ALARM.COM PRODUCTS HERE
Multiple SVRs can be installed to monitor a single property, allowing for both residential and light commercial applications. 24x7 video can be accessed from anywhere through the cloud, and makes reviewing footage simple with synchronized multi-camera playback, variable review speeds and timeframe compression.
In addition, Alarm.com introduced at ISC MobileTech 2.0, the company's mobile application for installers. Basically, anything a tech can do at the computer can now be done via a handheld smart device.
Here's how the company describes the upgrade:
With Alarm.com consumers have control over a wide range of connected devices across their home through a single, easy to use app. Now, with MobileTech 2.0, installing and supporting those devices is easier. Security panels with updated Z-Wave firmware can be remotely adjusted into add or delete mode directly from the app for a simpler installation process and remote troubleshooting. To ensure reliable operation of home automation devices the new Link Quality Indicator (LQI) test verifies the connection to each device and displays the results in an easy to read stoplight color system. Dealers can eliminate potential trouble spots during the install and ensure reliable operation of every device right from the start.
In other Alarm.com news, the company now supports Verizon 4g LTE and teased an outdoor camera with IR LEDs to see in the dark and an outdoor rating of IP66. Also demo'd was the integration of Liftmaster's standalone WiFi garage-door opener.
Alarm.com is now compatible with security systems from Interlogix, 2Gig by Linear, DSC and Qolsys.
---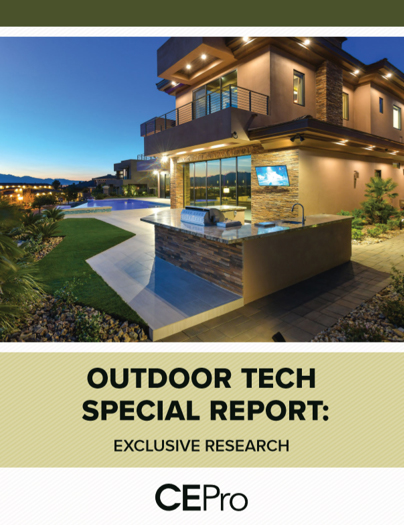 Find Out Why 63% of Integrators Expect Outdoor Business to Grow - CE Pro Download
The outdoor technology market is growing – both the demand from customers and the array of products available. According to our recent CE Pro survey, integrators are taking advantage of this opportunity to grow their businesses. Get your copy of the survey today.
---
About the Author
---
Julie Jacobson is founding editor of CE Pro, the leading media brand for the home-technology channel. She has covered the smart-home industry since 1994, long before there was much of an Internet, let alone an Internet of things. Currently she studies, speaks, writes and rabble-rouses in the areas of home automation, security, networked A/V, wellness-related technology, biophilic design, and the business of home technology. Julie majored in Economics at the University of Michigan, spent a year abroad at Cambridge University, and earned an MBA from the University of Texas at Austin. She is a recipient of the annual CTA TechHome Leadership Award, and a CEDIA Fellows honoree. A washed-up Ultimate Frisbee player, Julie currently resides in San Antonio, Texas and sometimes St. Paul, Minn. Follow on Twitter: @juliejacobson Email Julie at julie.jacobson@emeraldexpo.com
Follow Julie on social media:
Twitter · LinkedIn · Google+
Julie also participates in these groups:
LinkedIn · Google+