Actiontec Launches MoCA Network Adapter to Fill in Wi-Fi Deadzones
Actiontec kicks off its new whole home wireless portfolio with the WCB3000 MoCA-based Wi-Fi extender that offers dual 2.4 GHz and 5 GHz radios.
CE Pro Editors ·
June 27, 2013
Actiontec Electronics has launched its WCB3000 Wi-Fi Wireless Network Adapter using MoCA - the first solution in its new whole home wireless portfolio.
The new adapter uses MoCA (Multimedia over Coax) to extend the Wi-Fi signal via a home's existing coax wiring to more places in the home.
With everything from tablets to TVs and kitchen appliances now Wi-Fi enabled, there's more pressure than ever before on the home Wi-Fi network. According to Parks Associates, U.S. broadband households have an average of 3.5 connected devices, and nearly 50 percent of U.S. broadband households watch movies and TV shows online.
"The WCB3000 is designed to ensure broadband subscribers can enjoy their tablets and other devices in a second-floor bedroom, out on the back patio, or in the kitchen. The adapter is an important part of our overall Whole Home Wireless strategy aimed at tackling deadzones and making sure subscribers enjoy the broadband speeds they're paying for," says Brian Henrichs, chief business development officer at Actiontec Electronics.
Using a wired MoCA connection and offering dual 2.4 GHz and 5 GHz radios, the WCB3000 delivers stronger signals, faster speeds, and better coverage compared to wireless extenders that do not use a wired connection, according to the company.
Moreover, the adapter mirrors the Wi-Fi signal from the router, so consumers don't have to log into another network when they go to a different part of the house. They can move from one area or device to another, on the "same" network.
Actiontec's Whole Home Wireless portfolio will include devices that offer:
Dual-band concurrent 2.4 GHz and 5 GHz radios (2.4 GHz for regular web browsing; 5 GHz for online gaming and video)
Ease of use: The units simply need to be plugged it into the coax port to turn the port into a wireless network.
Auto-configuration when connected to compatible Actiontec routers
TR-069 for service provider remote management.
An Actiontec survey of broadband subscribers revealed that 64 percent of respondents lost their Wi-Fi signal once per week, 45 percent did not think their network was fast enough; and 34 percent complained of dead spots.
To address this issue, Actiontec's Whole Home Wireless strategy leverages multiple technologies (including Wireless, MoCA, and Powerline) and multiple approaches (including optimizing the position of the router, boosting the wireless router's performance, and creating more than one wireless hotspot in the home).
---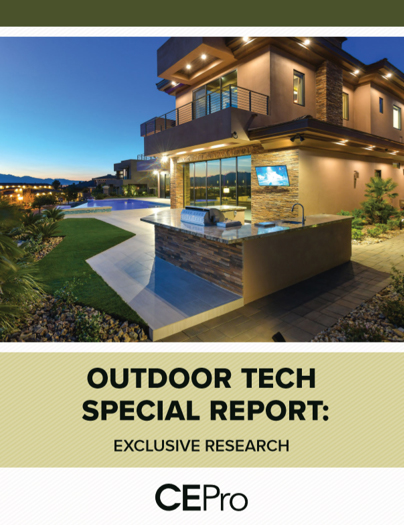 Find Out Why 63% of Integrators Expect Outdoor Business to Grow - CE Pro Download
The outdoor technology market is growing – both the demand from customers and the array of products available. According to our recent CE Pro survey, integrators are taking advantage of this opportunity to grow their businesses. Get your copy of the survey today.
---