5 YouTubers for Music Fans to Watch Over the Holidays
Now that YouTube integration is pretty standard in smart TV platforms and streaming devices, here are five YouTube channels that will take advantage of nice home audio systems.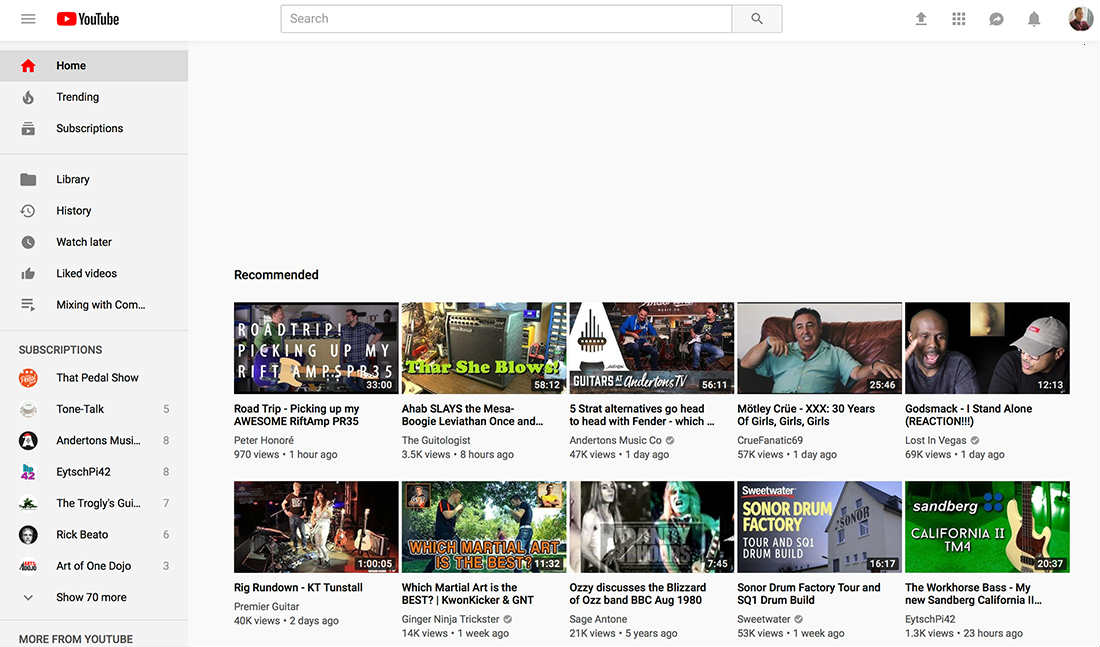 Robert Archer
·
December 21, 2018
For many young people—and for that matter—everyone, YouTube is replacing network TV as the first choice for home entertainment.
YouTube offers content for everyone. If you like martial arts, there are some great YouTubers such as Fight Tips, Jesse Enkamp and the Joe Rogan Experience (JRE). If you like video games, there's TotalBiscuit, Errant Signal, and Northernlion (just to name a few).
For music fans, there's no shortage of great YouTubers either.
In fact, there may be too many YouTubers, which means users may have difficulty finding all the good content in this cluttered video landscape.
Skipping the opinion-based vlogs that seem to dominate YouTube, some of my favorite YouTube channels and YouTubers are Rick Beato, Friedman Amplification's Tone Talk, L.A.-based professional guitar player Pete Thorn, Nashville-based professional guitar player Shawn Tubbs, and the Grandville, Mo.-based effects company JHS Pedals.
Some of the other YouTube channels I like include Wampler Pedals, the U.K.-based music industry retailer Anderton's, the U.S.-based music industry retailer Sweetwater, and That Pedal Show.
A Look at Some Fun Music Gear Based YouTube Channels
I wanted to highlight these channels because I feel they deserve some attention for their dedication to the platform and overall quality of their channels, which includes their level of expertise, quality of their broadcasts and just simply the takeaway value of their information.
After all, there are so many "experts" on YouTube that weeding through all of this "noise" can be difficult.
On his channel, Brian Wampler discusses recording techniques, effects, and music in general. His products are used by some of the top guitar players in the world, but his channel isn't presented in a technical manner, making it is easy to digest.
Anderton's page is one of the biggest music equipment channels on YouTube and covers new equipment releases in several product categories, and is home to several excellent guitar players including a host called "Danish Pete" who is one of the most tasteful musicians on the Internet.
Sweetwater also uses several employees to host its videos, which are straightforward product presentations. Sweetwater's level of service it delivers to its customers is well respected among musicians, and its YouTube channel reflects the level of quality.
Related: Pro Musician Rick Beato Says Audiophiles May 'Simply be Guessing'
That Pedal Show is hosted by one British and one Australian guitar player—Mick Taylor and Daniel Steinhardt—and they are "pedal nerds" in the coolest way possible. The show primarily focuses on effects, but it also ventures into other topics related to music and guitar.
One last thing: Since you are hopefully heading over to YouTube anyway, please check out CE Pro and its sister publication Commercial Integrator's YouTube channels.
My colleagues Jason Knott and Tom Leblanc do a great job covering a variety of topics relevant to the residential and commercial electronics industries (*hint hint* *click click*)
With that said, check out the slideshow for a closer look at Rick Beato, Tone Talk, Pete Thorn, Shawn Tubbs, and JHS Pedals' YouTube channels, which will rock any home theater or home audio system.
---
Save $100 When You Enter the CEPro BEST Product Awards Before May 24
Every year our editors recognize the most advanced products in the professional installation market. Wouldn't you like to tell your customers that your products are among this exclusive group? Enter the CEPro BEST Product Awards and give your sales team something to shout about. Early bird pricing ends May 24.
---
About the Author
---
Bob is an audio enthusiast who has written about consumer electronics for various publications within Massachusetts before joining the staff of CE Pro in 2000. Bob is THX Level I certified, and he's also taken classes from the Imaging Science Foundation (ISF) and Home Acoustics Alliance (HAA). Bob also serves as the technology editor for CE Pro's sister publication Commercial Integrator. In addition, he's studied guitar and music theory at Sarrin Music Studios in Wakefield, Mass., and he also studies Kyokushin karate at 5 Dragons in Haverhill, Mass. Have a suggestion or a topic you want to read more about? Email Robert at robert.archer@emeraldexpo.com
Follow Robert on social media:
Twitter
Robert also participates in these groups:
LinkedIn · Google+
Speakers
Meridian Adds 11 Manufacturer Rep Firms
Product Briefs: Doorbird, Snom; Guardian Protection Services Changes Name; AudioResearch
Triad Distributed Audio Series Designed for Multi-Room Audio
Experts Offer 5 Tips to Improve Your Audio Demos
McIntosh Unveils $5,000 Digital-Ready, Future-Proof Preamplifier
View more on Speakers
Take Our Latest Quiz
How Well Do You Understand Ethernet Cables and Connectors?
Bose