40% of All ADT Clients Now Use ADT Pulse
ADT reports 6% revenue boost and 73% of all new customers opt for ADT Pulse smart home automation. Pigeonholes Google, Amazon DIY security offerings as suitable for 'renters.'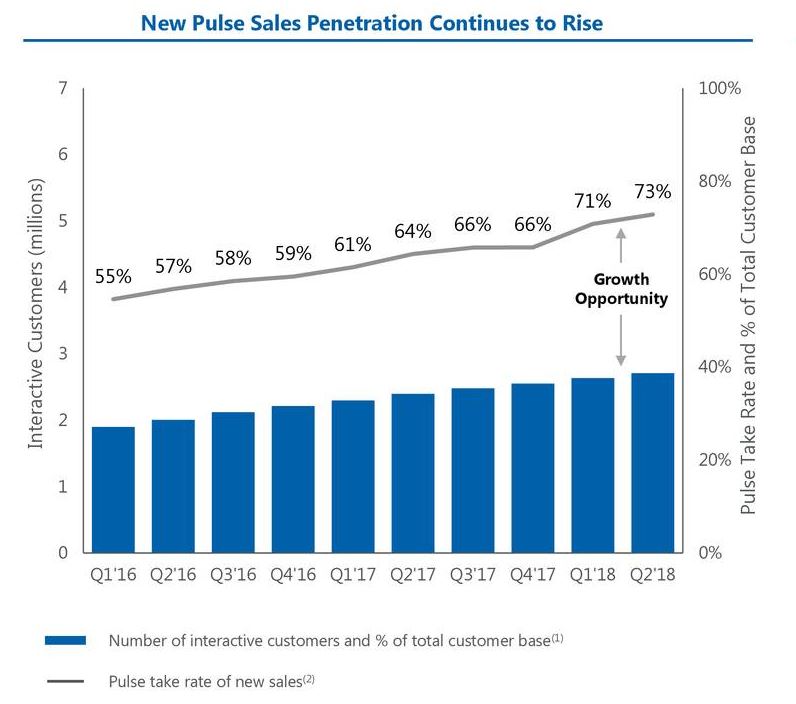 More about ADT
For more than a century, ADT has been one of today's most trusted, well known brands in the industry. Today, we serve more than six million customers, making us the largest...

ADT Company Info
Jason Knott
·
August 10, 2018
ADT continues to make headway in the smart home market, reporting that 40 percent of its total 7.2 million clients now use ADT Pulse. That total penetration is due to the fact that nearly three out of every four new customers of the security giant now opts for Pulse, up from two-thirds a year ago.
Introduced back in 2010, ADT Pulse centers on the interactive home, offering connections to security, lighting, thermostats and cameras. ADT has partnered with Z-Wave, Kwikset, Netgear, Ring, Nest and others to make the Pulse app compatible with a variety of connected home devices.
Tim Whall, CEO of ADT, told investors Pulse is attractive because it brings higher revenues and retention rates. Pulse provides ADT with higher monthly subscription revenue than traditional stand-alone security.
Related: ADT Reports $4.3B in 2017 Revenue, Possible Amazon Partnership
Reacting to a question about Google and Amazon's DIY offerings on the market, Whall called them "great offers for – we feel for the renters for sure," adding that consumers who are looking for only one or two devices connected to their security system are not ADT's target customers.
"Our typical customer is buying a larger system – systems that we've installed this year, slightly larger and more devices than last year. I think we see the home getting more complicated. Our traditional buyer enjoys that full service of our tech," says Whall.
"Our typical customer is buying a larger system – systems that we've installed this year, slightly larger and more devices than last year."
— Tim Whall, CEO, ADT
In the meantime, Whall mentioned ADT is continuing to pursue a DIY offering of its own in partnership with Samsung.
Overall, ADT reported revenues of $1.131 billion for the second quarter of 2018, up $64 million from last year's Q2, or 6 percent. The company had a net loss of $67 million for the quarter.
Attrition fell from the same period last year by 0.5 percent, from 14.1 percent of subscribers to 13.6 percent.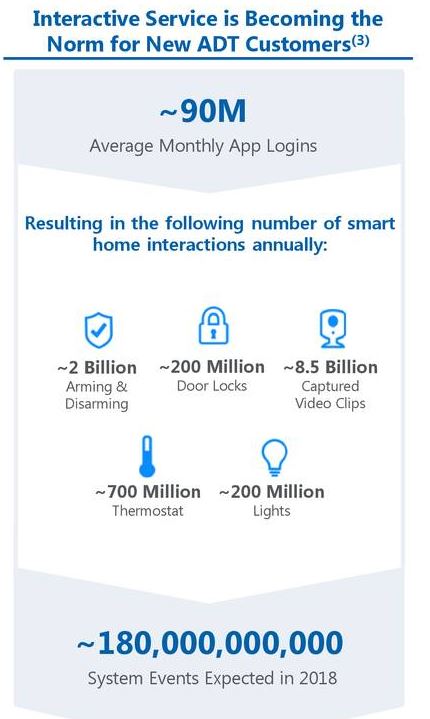 The company's ADT GO app, with features that include SOS emergency response, crash detection, driver reports and location sharing, has had 150,000 downloads since it launched earlier in 2018.
ADT, which is the No. 1 company in the 2018 CE Pro 100, is also diversifying into commercial security, with multiple acquisitions in recent months.
Whall reports that ADT's breakeven timeframe on a new customer is two years, four months, down from two years, six months last year.
"Looking ahead, we believe our brand and our favorable positioning provides significant competitive advantages. We're the leading security provider offering a fully interactive home experience that we're now extending to the individual, while they're outside their home.
"While we remain focused on the largest segment of the industry, which is the professionally installed residential market, we now have a similar opportunity in the commercial space, as well as a smaller, but quickly growing opportunity in the do-it-yourself market," says Whall.
---
We're Looking for Your BEST Projects
Don't miss your chance to enter to win a 2019 BEST Projects Award. We'll be announcing winners at a special Gala event at CEDIA EXPO. We can't wait to see what you've been up to this year! Enter your projects now.
---
About the Author
---
Jason Knott is Chief Content Officer for Emerald Expositions Connected Brands. Jason has covered low-voltage electronics as an editor since 1990, serving as editor and publisher of Security Sales & Integration. He joined CE Pro in 2000 and serves as Editor-in-Chief of that brand. He served as chairman of the Security Industry Association's Education Committee from 2000-2004 and sat on the board of that association from 1998-2002. He is also a former board member of the Alarm Industry Research and Educational Foundation. He has been a member of the CEDIA Business Working Group since 2010. Jason graduated from the University of Southern California. Have a suggestion or a topic you want to read more about? Email Jason at jason.knott@emeraldexpo.com
Follow Jason on social media:

Jason also participates in these groups:
LinkedIn · Google+
Control & Automation
Biophilia: Why Nature Sounds Beat White Noise for Open Office Spaces
Dish Rolls Out New Direct-to-Consumer Smart Home Service
New GE-Brand Z-Wave Smart Light Switches Available in Five Styles
Interlogix and Inflotrolix Team Up to Offer New Water Leak Detection System
Making Landscape Lighting a Profitable Revenue Source
View more on Control & Automation
Take Our Latest Quiz
How Well Do You Understand Ethernet Cables and Connectors?
Bose