3 Reasons to Use Security to Capture Middle-Income Smart Home Buyers
Recurring revenue and home automation awareness are among the reasons why you should consider selling smart home security products to middle-income clients.
Jason Knott
·
November 7, 2014
Eagle Sentry in Las Vegas has the advantage of being in the alarm business and dealing with homebuilders for many years in new construction, so it got to know the entire construction process well.
"A lot of integrators focus just on million-dollar homes and they tell me that with the infrastructure of their business is does not make a lot of sense [to deviate from that target market]. But the truth is that the middle market is actually the most profitable portion of our business," says Greg Simmons, vice president at CE Pro 100 Eagle Sentry, during a recent CE Pro webinar that also included David Weinstein, vice president of residential sales for Lutron Electronics, and Fred Napolitano II, senior vice president of Napolitano Homes in Virginia Beach, Va.
How so?
"One, there is recurring revenue attached. And recurring revenue is really valuable when you are doing many homes a year versus just a few," he notes.
Related: Capturing Middle-Income Buyers: The New Sweet Spot for Smart Home Sales
Secondly, mid-level market customers are now being inundated with marketing from cable and telephone companies about home automation.
"So they are providing the awareness that we could never really provide as a small integrators through their advertising. So in essence, they are actually doing us a favor," continues Simmons. "We are getting phone calls from people based on TV commercials asking us, 'Can we do that?' We tell them, 'Of course we can do that.'"
Thirdly, the alarm companies are knocking on the door.
"We have to be very cognizant that if the entry-level security companies decide to start offering audio/video control, then we as an industry have a real problem," says Simmons. "I don't know if it is going to move that way. It may. So we have to provide lifestyle enhancements for clients. And the custom electronics industry has the upper hand on the security and telecom/cable companies entering our market because we are built to service this equipment better."
---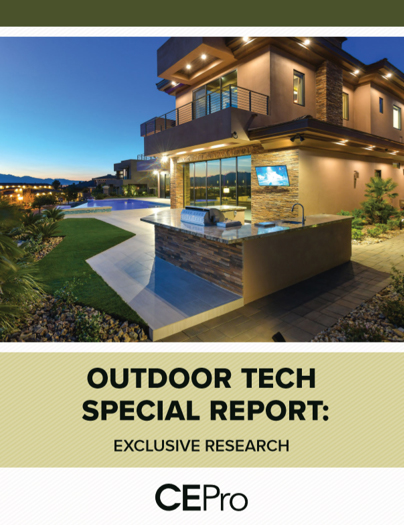 Find Out Why 63% of Integrators Expect Outdoor Business to Grow - CE Pro Download
The outdoor technology market is growing – both the demand from customers and the array of products available. According to our recent CE Pro survey, integrators are taking advantage of this opportunity to grow their businesses. Get your copy of the survey today.
---
About the Author
---
Jason Knott is Chief Content Officer for Emerald Expositions Connected Brands. Jason has covered low-voltage electronics as an editor since 1990, serving as editor and publisher of Security Sales & Integration. He joined CE Pro in 2000 and serves as Editor-in-Chief of that brand. He served as chairman of the Security Industry Association's Education Committee from 2000-2004 and sat on the board of that association from 1998-2002. He is also a former board member of the Alarm Industry Research and Educational Foundation. He has been a member of the CEDIA Business Working Group since 2010. Jason graduated from the University of Southern California. Have a suggestion or a topic you want to read more about? Email Jason at jason.knott@emeraldexpo.com
Follow Jason on social media:

Jason also participates in these groups:
LinkedIn · Google+