2014 CE Pro BEST Awards Open for Entries
The 2014 CE Pro Best Electronic Systems Technologies (BEST) Awards @ CEDIA Expo are open for entries with 31 categories of products. Awards to be presented on Sept. 11 in Denver.
CE Pro Editors ·
June 9, 2014
CE Pro is calling for entries for its sixth annual Best Electronic Systems Technologies (BEST) Awards @ CEDIA. Products eligible for judging must either be debuting at the show or have been released within the past 12 months.
The competition offers the greatest amount of exposure for product entries than any other industry awards competition, with every entry featured online at cepro.com starting September 11th, blasted out in CE Pro email newsletters, and in the CEDIA wrap-up November 2014 print edition of CE Pro.
BEST submissions will be held under embargo when requested until the first day of the show. Products will be independently judged by CE Pro editors and a group of integrators, with the winners announced in a beer reception in the CE Pro booth on the first day of the exhibits at CEDIA Expo 2014 in Denver on September 11th.
This year there are 31 categories. Other categories fall under the main categories of Loudspeakers (floorstanding, in-wall/in-ceiling, soundbars/on-walls, subwoofers and wireless speakers), Multiroom Audio/Home Theater (source components, screens, projectors, flat panel/Ultra HD TVs, racks/furniture/seating/acoustical treatments, lifts/mounts), Home Control/Automation (whole-house control, security/surveillance, HVAC, interfaces), Household Enhancements/Installation Accessories (including cabling, home networking, shade control, outdoor audio, outdoor video, power management) and Business Operations (software and tools).
Early bird entries ($299) are accepted through June 27th, while the final deadline is August 1st ($399). Click here to enter.
---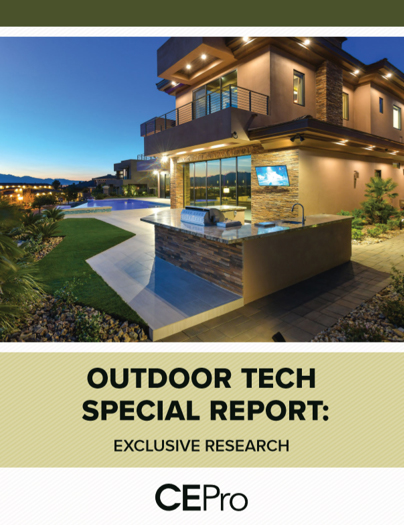 Find Out Why 63% of Integrators Expect Outdoor Business to Grow - CE Pro Download
The outdoor technology market is growing – both the demand from customers and the array of products available. According to our recent CE Pro survey, integrators are taking advantage of this opportunity to grow their businesses. Get your copy of the survey today.
---
News
How LG Aims to Broaden Integrators' World
RTI Touchpanel Remotes Mount in Walls, Reside on Tables
CEDIA Global HQ Opens: Take a Video Tour
Budget-Friendly Pro-Ject T1 Turntable Includes Bluetooth Streaming
People & Places: NSC Promotes Lynch; ProSource Member News; CEDIA Group, DLN Partner
View more News
Take Our Latest Quiz
How Well Do You Understand Ethernet Cables and Connectors?
Bose