These 10 Messy A/V Racks Are Not for the Faint of Heart
These 10 wiring jobs might leave you without much of an appetite. Click through the slideshow at your own risk!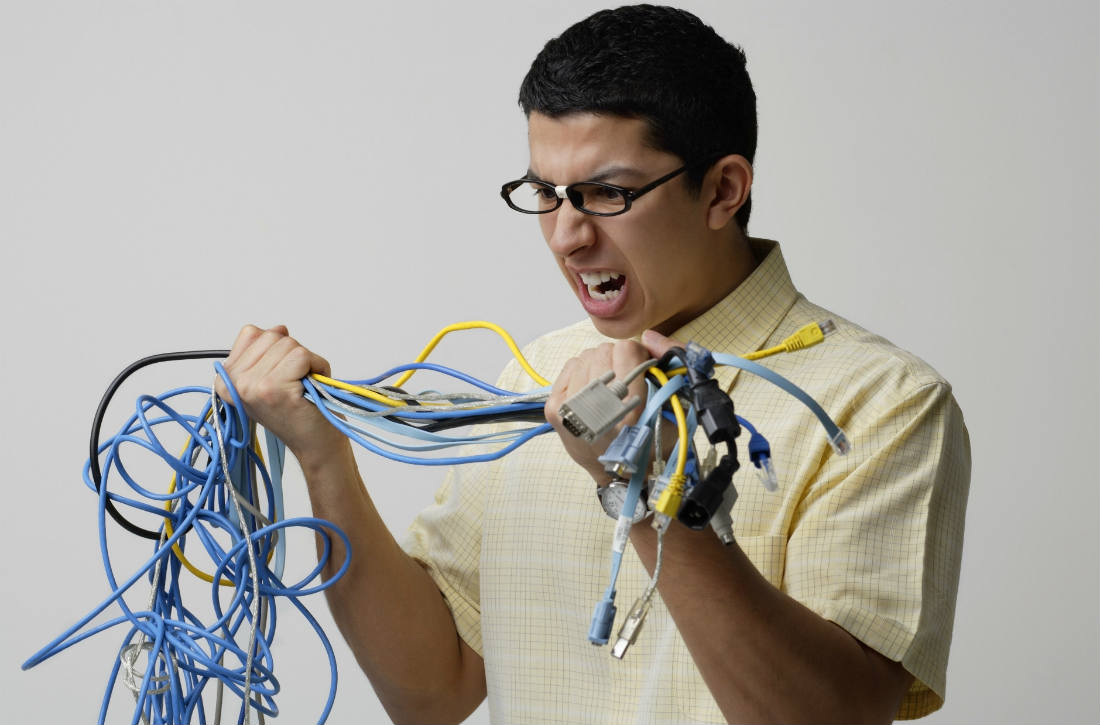 Andrew Nichols
·
April 22, 2019
Every custom installer has a wiring horror story, a time when they walked into a job and immediately canceled their dinner plans and prepared to work overtime. This is because, all too often, homeowners think they can handle the setup and cable management of their home.
In fact, there's a whole Facebook group dedicated to showing off the results of these poor excuses for home installs.
We've compiled a slideshow of some of the most atrocious rack installations and nests of wires spotted in the field by keen industry folks who were too shocked to look away.
It isn't clear in some of these pictures if the tech was installed by an actual integrator or a homeowner who wanted to save some cash. But either way, all of these images illustrate an immense need for a qualified installer.
Good wiring sets up a home for a better user experience. Residential integrators know poor A/V wiring and cabling isn't limited to the residential world, either. Here's a good example of some seriously terrible restaurant A/V installs from our sister publication Commercial Integrator.
Read Next: 14 Wiring Fails That Will Churn Your Stomach
No matter the situation, a lot can be learned by examining these photographs. While it's definitely easier to leave a messy but otherwise functional rack alone, a certain amount of personal pride should come into play for a reputable integrator.
Either way, pointing out these disasters is both fun and a little bit scary.
Thanks to the contributors over on the AV Install Nightmares Facebook group for these photos.
---
Save $100 When You Enter the CEPro BEST Product Awards Before May 24
Every year our editors recognize the most advanced products in the professional installation market. Wouldn't you like to tell your customers that your products are among this exclusive group? Enter the CEPro BEST Product Awards and give your sales team something to shout about. Early bird pricing ends May 24.
---
About the Author
---
Andrew is a journalist and educator living in the Providence area. He was previously the Editor-in-Chief of a gaming and tech website, and the Managing Editor of his university newspaper, The Torch. He received his Bachelors in Writing and Masters in Teaching from the University of Massachusetts Dartmouth. Have a suggestion or a topic you want to read more about? Email Andrew at andrew.nichols@emeraldexpo.com
Follow Andrew on social media:

Andrew also participates in these groups:
LinkedIn · Google+
Networking & Cables
Torus Power Introduces Two Rugged Space Saving Power Conditioners
Crestron Partners with Domotz for Remote Management
Product Briefs: Guardian Protection Services Changes Name; AudioResearch, Kwikset; Play-Fi, AirPlay2
Luxul Announces Commercial-Grade AV Over IP Networking Lineup
Boccaccio: Don't Leave Test Results of Eye of the Beholder
View more on Networking & Cables
Take Our Latest Quiz
How Well Do You Understand Ethernet Cables and Connectors?
Bose